Tissue Sparing ImplantTM (TSITM) Total Hip Stem Designs :: Bearing Materials - A New Approach to Reduction of Wear :: Proximal Modular Cementless Titanium Stem :: Surgical Navigation :: Patella Femoral Joint Disease :: Contemporary Cementing Techniques :: Intrinsic Modular Indexable Neck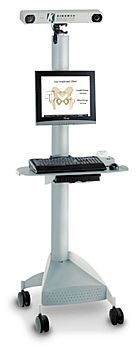 Surgical Navigation
NaviProTM
There has been growing interest in surgical navigation systems in part due to continued problems with dislocation. Dislocation have been reported in primary surgeries from 1-10% and as high as 29% in revisions. This senior author has revised over a hundred loose cementless cups just in the past year due to a well known recall of hip implants with fabrication problems. These have increased our dislocation rate from 2% to over 20%. Many of these revised cups present significant problems in determining proper cup orientation, cup stability, and added problems to joint stability due to compromised soft tissue integrity.
One such system is the NaviProTM System from Kinamed. This system is based on digital technology. It allows for checking relationship between femur and pelvis before and after implantation without imaging technologies. Basic components include a mobile trolley cart that holds a stereo camera, low-profile computer, flat-panel display, foot controls and a mini-printer.
Newsletter Excerpt
The NaviPro Surgical Navigation systems was featured in the November 2002 issue of JISRF Update newsletter.

You can view this article or the entire newsletter.
Poster Exhibit
You will need the Adobe Reader to view and print these documents.