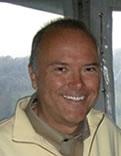 Dr. Timothy
McTighe
JISRF Executive Director, Timothy McTighe Doctor of Humane Services, honoris causa 1998
Since July 1991, Timothy McTighe, has been the Executive Director of the Joint Implant Surgery and Research Foundation. As director his efforts have continued to develop and support the Foundation's commitment to medical research of surgical methods and materials.
In May of 1998 Timothy McTighe received a Doctorate of Humane Services, honoris causa, from Our Lady of Holy Cross College in New Orleans, LA.
Address
46 Chagrin Shopping Plaza, #117
Chagrin Falls, OH 44022
Tel: (440) 785-9154
Fax: (440) 543-0544
Email: tmct@jisrf.org
Click here for driving directions and location map.
Professional Memberships & Relationships
Charter Member The International Congress for Joint Reconstruction 2010

American Association of Hip and Knee Surgeons
Affiliate Member
2005-Present
Australian Orthopaedic Association, Affiliate Member
2005-Present

Australian Orthopaedic Research Foundation
2005-Present
Member of the Australian Orthopaedic Medico-Legal Society
2005-Present

Board Member Keggi Orthopaedic Foundation
2003-Present

Osteoarthritis Research Society International
2003-Present
Jackson Arthritis Center
Board Member
2003-2008
ISOST "The Internet Society of Orthopedic Surgery and Trauma"
2002

Orthopaedic Research & Education Foundation
Shands Circle Member
National Board Member
1997-Present

International Society for Technology in Arthroplasty
formerly known as International Society for the Study of Custom Made Prosthesis
1992
Executive Director & Board Member
Joint Implant Surgery & Research Foundation (JISRF)
1991-Present
Active Member Orthopaedic Research Society
1987-Present
Society of Biomaterials Active member
1987-Present
Curriculum Vitae Summary
Received a Doctor of Humane Services Degree (Honoris Causa) from Our Lady of Holy Cross College, New Orleans, Louisiana (May 17,1998) for lifetime contribution to orthopaedics
Working in the orthopaedic health care field since 1970
1991 to present, Executive Director & CEO of The Joint Implant Surgery & Research Foundation (JISRF). A nonprofit (501c) scientific & educational foundation established in 1971 by Professor Charles O. Bechtol, M.D. From 1991 - 1995 JISRF has conducted over 68 CME activities issuing over 600 credit hours to over 5,000 orthopaedic surgeons in the field of total joint surgery
Conducted a number of clinical/surgical study groups from practical evaluations of surgical navigation in THA to the design and surgical technique of using modular stems for both cemented and cementless indications
Holds fourteen patents issued and a number of pending in the field of total hip devices.
Collaborated on a number of hip designs in the market since 1984 with well over 1/2 million being successfully implanted, improving the quality of patients' lives
Attended every Annual AAOS meeting since 1976
Attended over 220 orthopaedic CME programs
Presented 10 scientific/poster exhibits at the Annual AAOS Meetings
Authored or co-authored over 100 papers/presentations on the subject of total joint surgery
Lectured and published on ethics and commercial support in CME activities
Sponsored, conducted and published on basic science research related to THA
Published a chapter "Design Considerations for Cementless THA" in the Handbook of Biomaterials and Applications by Marcel Dekker, Inc., July, 1995
Created the JISRF web site: www.jisrf.org that is now receiving over 1,800 visitors a month and we can now tract some initial inquires from patients to the operating room
Accepted in fourteen professional organizations and maintains active membership in seven
Retained as an expert in orthopaedic medical/legal cases
Interviewed and published in Trump University "Entrepreneurship 101 by Prof. Michael Gordon in 2010 (75-78)
Published "Reference Book on Total Hip Modularity" third edition January 2009

Click here to download curriculum vitae pdf
You will need the Adobe Reader to view and print these documents.

Patents and Patents Pending
Re: Neck Sparing Total Hip Implant Method
U.S. Patent Application No. 12/978,396
Filing Date: December 23, 2010
Priority Date: September 1, 2009
Our File No.: T12044.CIP.2

Re: Neck Sparing Total Hip Implant System
U.S. Patent Application No. 12/978,395
Filing Date: December 23, 2010
Priority Date: September 1, 2009
Our File No.: T12044.CIP.1

Re: Low Stress All Poly Tibial Component
U.S. Provisional Patent Application No. 61/312,652
Filing Date: March 10, 2010
Co-inventors:
John Keggi
Louis Keppler
Timothy McTighe
Declan Brazil
Carl Knobloch

Re: Low Stress Multiple Fixation Acetabular Component

U.S. Provisional Patent Application No. 61/312,650

Filing Date: March 10, 2010

Co-inventors

Russell Nevins

Edward J. McPherson

Timothy McTighe

Declan Brazil

Re: Tissue Sparing Implant
International Application No. PCT/US08/02217


International Filing Date: 19 February 2008




Priority Date: 16 February 2007


Co-Inventors:
Timothy McTighe
Mike Ribot
Steve Banks
Jim Henry
Differential Porosity Prosthetic Hip System
McTighe et al. Patent No. US 7,323,013 B2


Date of patent: Jan. 29, 2008


Co-Inventors:
Timothy McTighe
Ian Murray
Hugh U. Cameron
Tissue Sparing Implant


Filled February 16, 2007

(Patent Pending)
Co-Inventors:
Timothy McTighe
Steve Banks,
Mike Ribot
Jim Henry

Acetabular Ring Prosthesis with Reinforcement Buttress

Issued June 12, 2007

Co-inventors:

Kelman, David, Schatzker, Joseph

Gross, Allan , Cuckler, John

McTighe, Timothy, Johnston, Constance

Patent number 4 CA 2267246

Orthopaedic Implant with Proximal Conical Collar


Granted July 5, 2005


Co-Inventors:
Barry Hubbard
Timothy McTighe
Jerry Kee
Paul Mraz
Patent Number; 6,913,624 B2
Oblong Acetabular Cup


Granted December 21, 2004


Canadian Patents Issued
Patent Number: 2,104,231
Co-Inventors:
Michael Christie
Timothy McTighe
Alfred F. DeCarlo, Jr.
Douglas Noiles
Denmark patent number T3 A61F 2/34 0948298
Issued 4/13/2004
Orthopaedic Implant with Proximal Collar


Granted January 10, 2002


Co-Inventors:
Timothy McTighe
Barry Hubbard
Jerry Kee
Paul Mraz
Patent Number: 6,332,896 B1
As ordered by Scott M. Ledford, Attorney
Office of Petitions
Office of the Deputy Commissioner for Patent Examination Policy
Orthopaedic Implant with Proximal Collar


Issued December 25, 2001


Co-Inventors:
Barry Hubbard
Timothy McTighe
Jerry Kee
Paul Mraz
Patent Number: 6,332,896 B1

Acetabular Ring Prosthesis with Reinforcement Buttress

Issued August 3, 1999

Co-Inventors:

John M. Cuckler

Joseph Schatzker

Allan E. Gross

Constance E. Johnston

David C. Kelman

Timothy McTighe

Patent Number: 5,931,870

Proximal Conical Cementless Stem


Issued March 10, 1998


Co-Inventors:
Timothy McTighe
Paul Mraz
Jerry Kee
Patent Number: 5,725,594
Modular Prosthesis


Issued August 5, 1997


Co-Inventors:
Timothy McTighe
Bruce Shepherd
Jerry Kee
Patent Number: 5,653,765
Segmented Prosthetic Articulation


Issued August 27, 1996


Co-Inventors:
John Graham
Timothy McTighe
Paul Mraz
Patent Number: 5,549,700
Oblong Acetabular Component


Granted March 9, 1993


Co-Inventors:
Michael Christee
Fred DeCarlo
Timothy McTighe
Douglas G. Noiles
Patent number: 5,192,329
Porous - Coated Artificial Joints


October 8, 1991 Canadian Patent


Co-Inventors:
Thomas H. Mallory
Timothy McTighe
Douglas G. Noiles
Patent number: 1,290,099
July 31, 1990 Porous - coated Artificial Joints
Co-Inventors:
Thomas H. Mallory
Timothy McTighe
Douglas G. Noiles
Patent number: 4,944,759

Porous - coated Artificial Joints (SuperCup™)

Granted November 28, 1989

Co-inventors:

Thomas H. Mallory

Timothy McTighe

Douglas G. Noiles

Patent number: 4,883,491