JISRF's Board of Directors have approved the formation of an Institutional Review Board (IRB).
A JISRF committee has been formally registered wiht the U.S. Department and Health and Human Services as an Institutional Review Board (IRB). The Institution or Organization (IORG) number: IORG0007797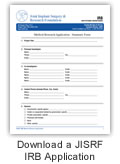 DownloadJISRF has a long rich history of conducting clinical/surgical research projects. There has been considerable interest in JISRF establishing a formal IRB Committee. The specific purpose of this IRB Committee is to assure, both in advance and by periodic review, that appropriate steps are taken to protect the rights and welfare of humans participating as subjects in a research study. JISRF's IRB Committee will attempt to ensure protection of subjects by reviewing research protocols and related materials. IRB protocol review assesses the ethics of the research and its methods, promotes fully informed and voluntary participation by prospective subjects capable of making such choices and seeks to maximize the safety of subjects.
JISRF has lectured and published on ethics and full disclosure since 1993. The Board sees the IRB Committee as a next logical step in interdisciplinary research and education while protecting the individual patients rights on full disclosure with regard to decision making of new technologies and potential conflict of interest in an ever changing health care environment.
Research grants, charitable contributions and revenue from our general fund support the IRB's work.