JISRF Activities June 2010
This edition of our E newsletter is on the subject of education or continuing education in the health care sector. We have commented, lectured and published over the years on "Commercial Funding" for education, "Bias" information "Disclosure" and "Ethical Behavior" in general.
This publication is highlighting
Continuing Education and the Relationship with Commercial Interest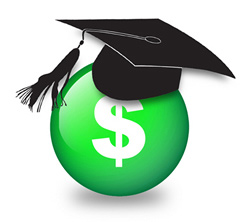 Commercial Interest: Just what does that statement mean? It, of course, can have a number of different meanings but generally relates to commerce (trade of goods and services). Commerce now has a bad reputation, and the Accreditation Council for Continuing Medical Education (ACCME) has taken it a step further in creating a rule that can restrict the educational process. On June 18, 2010 the Milwaukee Sentinel reported that the American Heart Association's Annual (AHA) meeting would not allow papers to be presented that have industry employees as lead authors.
"Employees of commercial interests [cannot] serve as speakers or planners" in CME activities if the content of the presentation "relates to the business lines and products" of their employers.
Reported in Policy and Medicine's newsletter June 2010 - According to the AHA, ACCME defines a commercial interest "as any entity producing, making, re-selling, or distributing healthcare goods or services consumed by, or used on, patients."
Would this language (legal interpretation) not also include hospitals and medical centers? Certainly they provide product and services to patients. In fact, they often use product on consignment and sell this product and service to the government, private patients, and insurers. It is not unlike a hospital to mark up their product 300% to private patients. Of course they have justification for this action (rising health care cost).
I was pleased to see that the AHA did not just accept this at face value and entered into serous dialogue with ACCME especially in light of a statement made by the Endocrine Society (ENDO) President Robert Vigersky, MD reported in www.medpagetoday.com. Vigersky said, "Employment in the pharmaceutical industry is a serious conflict of interest that should preclude investigators from speaking in or influencing the content of CME activities. We have decided to no longer provide CME credit for any oral/abstract or poster presentation sessions at our meetings because many of these scientific reports do come from industry. In certain circumstances, scientists from industry may be allowed to talk in CME activities if it is about the pathophysiology of a disease, but not if they are presenting on the clinical efficacy of their drug or medical device."
Dr. M. Kopelow, a physician and chief executive of the council of ACCME has asserted that his organization "is not against science, and has no right to silence anyone." He maintains that ACCME "stands for doctor education that is independent from industry. But has noted that "allowing industry employees to give medical education talks is not compatible with that goal," although "it is perfectly acceptable for industry employees to give talks in settings that don't involve CME." Well our First Amendment Right to fee speech is protected.
Something is seriously wrong with the over reaction to commercial interest. Are we now going to restrict the exchange of information often by the people that know the most on a given subject?
One of our Board Members, who publishes a significant amount in peer review journals was just told by his hospital that due to his disclosures on commercial interest he would not receive any more Investigation Review Board (IRB) approvals. Does this sound wrong to anybody but me? In my opinion, this smacks of professional jealousy. IRBs should not judge by commercial interest but on the merits of the scientific endeavor. Financial interest needs to be disclosed - nothing more nothing less.
Where do judgmental administrators think the funding comes from for any endeavor in life? Most things have an economical relationship, good and bad. There is not a single non-profit organization that would exist if it were not for the generosity of those who are successful in their commercial interest.
To the credit of AHA and others like Francis Collins, MD, PhD, Director of the National Institutes of Health, who said "This is conflict-of-interest consideration run amok."
There can be no justification to restrict the communications of research and development by industry. Without industry there is no research and development. In my opinion, if this over reaction continues all we will accomplish is to drive research, development and education overseas.
Continuing Medical Education is directed at well educated professionals. Why do we think these educated people cannot judge the merits of papers, lectures and posters, presented at a CME activity? ACCME has done a fine job in establishing guidelines and standards but needs to remember that their main objective is the continuation of education not its restriction. Yes we can all site flaws brought about by commercial interest, but restriction is never the answer. Making sure CME activities have adequate time for discussion of the scientific content with "Balance" on the topic should be the goal of all CME providers. Let's set guidelines to ensure proper time for debate and defense of scientific content. This is true peer review.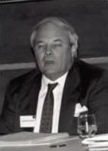 Bruce Shepherd, MD
To paraphrase one of my dear friends, Bruce Shepherd, MD, Past President of the Australian Orthopaedic Association and Past President of the Australian Medical Association, "something is wrong with education when I can go to a lecture fall asleep and receive credit, but I go and visit Sir John Charnley, MD or Prof. Charles O. Bechtol, MD and actually learn something I get no credit."
For those that don't know the history and accomplishments of this man I suggest you read his newly published memoirs "Shepherd, memories of an interfering man." He is often credited with saving the private health care sector in Australia.
We are seeing restrictions upon the health care sector from many sources, with trends to make all professionals and medical technology generic. We need to acknowledge that there are features and benefits to our technology, and employees of commercial interest have developed many of those benefits. These people that have dedicate their lives to the betterment of society. Because they are employed by a commercial interest are we now going to say their work is tainted and not valued the same as an academic?
| | |
| --- | --- |
| | AAOS Poster Exhibit 32 March 2008, San Francisco, CA |
| | Many exchanges of educational content are shared at CME activities that have funding from a commercial interest. The AAOS is an example of commercial funds supporting CME activities. Here the 2008 AAOS meeting brought together a group of international surgeons from Australia and the U.S. to discuss and review technology presented as a poster on "A New Approach To Neck Sparing THA Stem" |
If this makes sense then what is the next step, the banning of commercial funding for CME activities? If we are concerned that commercial interest can unduly influence our professionals, then what about our children? Should Apple be banned from donating computers to schools, or lecturing on the function and proper use of their software? Where do we stop?
Something is wrong with this picture. I for one have seen too much good generated and advanced by the educational collaboration with industry to endorse the concept of restriction of fair and balanced educational material, regardless of the researchers employment. But then I must be "Bias" and as far as that issue goes we discussed that in a previous E newsletter.
I want to re-emphasize an old statement my wife Cathy is fond of saying to our children and grandchildren and one most of us have heard by our mothers and Grandmothers "be careful for what you ask for because you might just get it." Well I hope ACCME is careful for what they ask for!


Timothy McTighe
The Value of Surgeon Visitation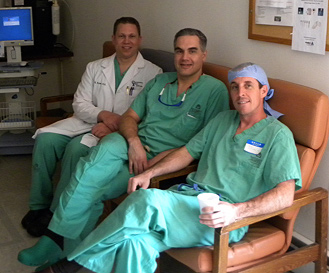 From left to right: Dr. Rubin, Dr. Keggi, and Dr. Walter.
JISRF has had the opportunity since 1971 to help organize surgeons to visit other surgeons for observation of surgery, and review of clinical/surgical documentation. We are of the opinion this is the best activity for surgeons to learn and share "how to and how not to do" orthopaedic surgery.
On one such recent visitation I was pleased to help arranged for Dr. Brad Walters, from Thomasville, GA to visit with Dr. John Keggi and Dr. Lee Rubin in Waterbury, CT. Dr. Walters is especially interested in the anterior approach for THA. He is also a member of the JISRF's International Tissue Sparing Implant Study Group (TSITM THA) and recognizes the expertise of Dr. John Keggi in the "Keggi Anterior Approach" as developed by his uncle Professor Kristaps Keggi, MD from Yale School of Medicine.
JISRF was pleased to highlight Dr. Walter in our February newsletter with regard to his stepping up and out in the devastation in Haiti and his interest in more conservative techniques to hip surgery especially with the anterior approach.
The following commentary is from Dr. Walter.
Bradley N. Walter M.D.
The Value of Surgeon-to-Surgeon Visitation
By Bradley N. Walter M.D.
I recently had the opportunity to visit with Dr. John Keggi in Waterbury, CT. The purpose of the visit was to see and learn more of the fine points of the Anterior Single Incision approach in the context of head resurfacing and a high neck cut prosthesis. As usual, I got more than I bargained for. The day began with breakfast and a discussion of MOM issues in the context of hip resurfacing. I was able to present a patient case that had bilateral HR from a very prominent orthopedic surgeon. The patient had both acetabulae loose and some fairly substantial neck erosions. The appearance was consistent with mechanical loosening, but to be safe Dr. Keggi suggested that I should send blood for metal allergy testing. I was not aware of the availability of this testing.
My interaction was not limited to Dr. Keggi but his staff including his PA and fellow. Discussions on the need for patella resurfacing in TKA challenged my thinking on the subject. I had been trained with the dogma of always resurfacing the patella. After discussions with Dr. Keggi's fellow, I will be rethinking this dogma.
Most surgeons get very comfortable with their implant selections and systems. Discussions of design rational and implant selection are limited in the context of our own practices. On this trip I was able to directly see a variety of implants from multiple different companies that I had previously not had any exposure.
| | | |
| --- | --- | --- |
| | | |
| Preoperative templating | High neck resection | Rasping the femur |

Omni ARCTM stem
The new Omni ARCTM stem looks like it may have substantial promise as an alternative to both HR and traditional THA. It's design as a tissue sparing implant with proximal loading to prevent bone loss may prove to have substantial benefits in the future.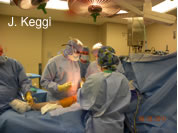 Surgery in the hands of a master is great to experience. The fine points have to be experienced from beginning to end. From the prep and drape to the closure, pearls are learned which can translate the whole process into the art form it should be. I don't think I've ever attended a formal CME course that so directly and immediately translates to the ultimate benefit of my patients. As I look back over the last 10 years. of continuing medical education, I would undoubtedly say that surgeon to surgeon visitation has enhanced my surgical skills more than any other form of CME. Whether it was ASI surgery in Alts, Belgium with Dr. DeWitt, or Arthroscopic shoulder surgery close to home in GA with Dr. Wiley, the experience surpasses any didactic CME course. It's a shame that the current CME process recognizes only formal CME course training. I think that most surgeons fail to pursue individual surgeon-to-surgeon training because of cost and time constraints that don't "count" for their CME requirements. Unfortunately, declining reimbursements will only increase the strain on already overwhelmed surgeons.
As one who has aggressively pursued surgeon-to-surgeon training, I can't stress its importance enough. My practice and my patients are better for the effort. I want to acknowledge JISRF and the work they do in getting surgeons together and sharing their work.
Ghostwriting in Medical Literature
It almost seems anything today to do with the health care sector is tainted. Attached to this newsletter is a report from Sen. Grassley's Committee on Finance on this subject. This certainly is a disturbing report and raises concerns and issues that need clarification and disclosure.
I guess after all these years in orthopaedics I'm surprised when individuals comment that they did not know of an author's "bias" or of a potential financial interest. The financial interest of orthopaedic surgeons has been well known ever since I have been in orthopaedics (1970). Sir John, Muller, Ender, Bechtol, Townley and the list can go on and on.
I have been involved with writing and negotiating surgeon contacts since 1980. I believe in the value of surgeon industry collaboration and believe the patient population which we all are part of has benefited because of these relationships. Have I seen assistance by industry to help surgeon authors in preparing material for CME activities and publications? Yes, but have I observed the objective of this assistance to deceive or misrepresent the truth? No not in my experience.
Historically, there has not been the same emphasis on full disclosure as there has been over the past few years. I remember JISRF presenting an AAOS scientific exhibit in 1991 on Commercial Funding and disclosure. I suggest we were ahead of the curve on this issue. This is posted on our web site on the publications page.
There is a statement in the Grassley report by the editor-in-chief of the medical journal PLoS medicine "Medical ghostwriting is a particularly troubling form of manipulation." This is a pretty broad statement that taints on face value that there is deceit on the part of or receipt of assistance. I agree with the editor's additional statement "medical writers paid by drug companies…may have a legitimate role in helping shape papers for publication. However, when the medical writes' involvement is hidden they become ghostwriters, and hence they are unaccountable for their work." I would however disagree with the editor's language on the term shape. I do not agree that any writing assistance should shape the paper. This is the responsibility of the lead author and co-authors. Assistants should help developed the material for content but I don't believe they should help shape the paper.
Preparation should be properly acknowledged, as should all forms of financial support. Historically the standards for full disclosure in published works have not been considered necessary. This is not just in the medical field but has been overlooked in all areas of higher education, and the publishing world in general. How many autobiographies have been written by ghostwriters? How many professors have published with the help of graduate students with no
recognition? In fact, with due respect to Sen. Grassley how many staffers helped prepare this report?
I am in total agreement with what I believe to be the main point of this report in being full disclosure but lets be careful on the negative content of past historical intent. Standards and guidelines are ever changing and it is easy to find fault, especially when we don't want to accept responsibility for past acceptance of behavior.
Statement like "Not only are the articles typically initiated and paid for by a pharmaceutical or device company." This statement is implying that there is something wrong with medical industry initiating activities that are basic to our free enterprise system. Develop features and benefits and then promote these features and benefits. The historical fault has been non-disclosure lets not blame the initiative. In my opinion, we need more not less initiative but the rule should be full disclosure. If you are reluctant to disclose you probably should not be doing what you are doing.
There is another very interesting statement in this report; "When prominent physicians and scientists lend their names to an article, it raises the credibility of the findings and conclusions presented." Is this a surprise? Of course not! What common sense person would not want to get a prominent person to endorse their product? The medical profession is still a field that looks for guidance and direction from its leadership. The burden should be on that Leadership to understand its role and make sure their "biases" are fully disclosed.
Here is another paragraph of this report that implies improper intent.
"A prominent researcher and professor of medicine at a leading medical school informed Committee staff that in the late 1990s and early 2000s it was common practice for pharmaceutical companies to approach him and his colleagues with requests to review and sign on as primary authors to company studies. Specifically, a company would tell a physician or scientist at an academic institution that it completed a study and would like his or her interpretation and feedback on the results of that study. In return, the company would offer that physician or scientist lead authorship on the paper, which was written by someone other than the physician or scientist. The physician or scientist would not be paid for being the author of the paper, but he or she may receive compensation for the time and effort related to reviewing and commenting on the study results."
The fault I find with this is not that fact that companies would solicit experts to review and be part of authorship but that the lead author should be the work of the principal that did the work. If this was initiated and done by an employee of a commercial interest then he or she should rightly be the lead author with proper disclosures.
This issue is the subject of our commentary on "Continuing Education and the Relationship with Commercial Interest."
I have had the pleasure of authoring and co-authoring many papers and talks over the years with many prominent surgeons and scientist. I always try to give credit to others and fully expect to receive credit if I contribute to the content of the material. I was taught by one of the great educators of orthopaedic medicine Prof. Charles O. Bechtol, MD. He acknowledged the contributions of others and by that acknowledgment taught that there is nothing wrong in expecting that acknowledgment. Acknowledgment must include full disclosure nothing short of full disclosure will reestablish the credibility within the health care sector.
The basic guidelines for publication as an author or co-author recommended by the International Committee of medical Journal Editors (ICMJE) is:
Contribute substantially/significantly to the conception, design, execution and/or data acquisition or interpretation of the underlying paper
Participate in the drafting, reviewing and/or revising of the manuscript for intellectual content and
Provide final approval of the manuscript to be published.
The medical sector has made significant mistakes but no more or less than other professions. Has the Leadership been slower in certain regards as to disclosure and guidelines for its professional members? Probably so, but we are ahead of many other professions including the public sector. Since we deal with the health of our patients we stand out, but in my opinion and experience this is overall a group of dedicated men and women that are motivate by good intentions and we are all better off today by the performance of these professional individuals.
When have we seen a publication of late discussing the positives of this profession?
The Value of Continuing Education
A body of learned experiences, that continues to grow with life's lessons both professionally and personally, is a form of continuing education. This level of achievement is generally recognized as a body of work.
Recognition comes in many forms (monetary, awards, honorary degree etc.). Human nature responds well to most forms of acknowledgment, and often we seek it out.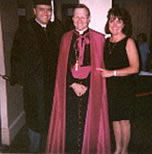 May 17, 1998 With the Bishop and my wife Catherine
I touch on this subject every few years because of an honor I received on May 17, 1998, Doctor of Humane Services, honoris causa from Our Lady of Holy Cross College in New Orleans, Louisiana.
An honorary doctorate is a doctoral degree awarded for service to the institution or the wider community. This service does not need to be academic in nature. Often, the same set of degrees is used for higher doctorates, but they are distinguished as being honoris causa. In comprehensive lists, the lettering used to indicate the possession of a higher
doctorate is often adjusted to indicate this, e.g. (hc).
Often such honors are not displayed or used in this country just because the tradition is not as established as it is overseas. An honorary degree is nothing more and nothing less than the name indicates: "honorary". My choice of using the credit comes from the honor meaning respect in which I accepted this award. This acceptance was not done lightly and my use of the credit was not done without thought and advice.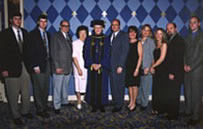 56th Annual Commencement
Our Lady of Holy Cross College
With Rev. Thomas Chambers, President and my children and parents. My Daughter Kathleen was receiving her Masters from John Carroll University in Cleveland, Ohio
the same week.
I have been blessed my entire life to have senior mentors that have aided and guided me into and through a highly recognized professional field. I was educated in public high school and the United States Navy as a Hospital Corpsman (1969-1973). This May was my 40th year in the orthopaedic health care field and I plan on spending another ten years, God willing.
As I have done with most of my professional decisions over the years I sought advise from a number of significant people in my life before making the decision to tack on the (hc) after my name. Standing on stage with learned academic graduates with my children (six), wife and parents in the audience, receiving acknowledgement for Humane Services for my life's work was certainly one of the proudest days of my life.
I have always taken the position with my children that there is not anything you can't do. If I can get this far then you should blown me out of the water. I have six children five with college degrees and one with a post-grad degree and one over-the-road driver. My entire life has been encouraging all levels of education especially within the orthopaedic health care sector.
Much of my motivation is to encourage people to step out, take a chance, make a difference. Don't be afraid of a little controversy. Get up, ask questions, don't sit back and accept things at face value. My entire life I have been told you are not qualified to do what you do, who do you think you are? Well I am someone that finds life interesting, I think I work in the most exciting field of medicine, I think I make things happen. I like to challenge the status quo and look for people to challenge me.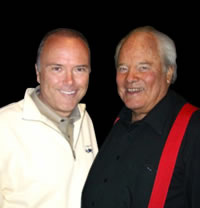 Timothy McTighe and Bruce Shepherd
I was recognized this year in two books, one by my dear friend Dr. Bruce Shepherd "Shepherd - Memories of an interfering man" and in Trump's book "Entrepreneurship 101" written by Michael E. Gordon, PhD. Chapter 8 "Build Your Fortune as a Tech-Preneur." Is this something to be proud of, I think so.
My C.V., my web site, my lectures and public references in a number of books highlight my basic public education and my constant strive for higher education in all fields. In no way does my use of (hc) indicate that I consider myself an equal with the individuals that have put in the time and effort to achieve their academic credits. If individuals think I should not display the honor that is there right, but if I can stimulate one individual to strive to achieve the next level regardless of that individuals background then I think that is a good thing.
A new activity I am getting ready to launch is a medical journal called "Reconstructive Review." I sought out professional advise and the overwhelming response was to "go for it." I hope that I can stimulate both ends of the spectrum to go for it. You are never too young, never too old. If there is a hurdle in the road, jump it. If you can't jump find a ladder.
As always, I welcome comments and hope my activities stimulate conversation and debate.


Timothy McTighe
P.S.
Many in higher education are now discussing how to improve continuing education. The Josiah Macy Foundation (JMF) sponsored a conference in 2007 which covered issues such as
Decreasing the focus on the didactic lecture as the primary format for CE
Increasing awareness of practice-based learning
Heightening attentiveness to the importance of CE as a tool to improve competency and performance in the academic health center
Developing interprofessional education; and Instilling lifelong learning skills
The need for change to include Lifelong Learning Skills is underway. We are beginning to see not only the vision but the implementation by academic institutions, healthcare systems, continuing education providers, accrediting bodies, licensing and credentialing boards, funders, and others. I suggest anyone interested in Lifelong Learning take a look at this conference report hosted by the Association of American Medical Colleges and the American Association of Colleges of Nursing. The report is very detailed and can be a guideline for many walks of life.
Recommendations for Upcoming Continuing Educational Activities
There are a number of upcoming educational activities that JISRF wants to bring to your attention and we endorse and recommend these for your consideration.
40th Annual Course "Advances in Arthroplasty"


Harvard Medical School
Cambridge, MA, September 28- October 1, 2010
The 12th Annual
Update in Hip & Knee Arthroplasty and Bearing Surfaces
Indian Wells, California
October 6-8, 2010
11th Annual
Insall Scott Kelly Institute Sports Medicine and Total Knee & Hip Meeting
New York City, NY, October 22-24, 2010
2nd Annual
Modern Trends in Joint Replacement
Palm Springs, CA., November 11-13, 2010

Lessons Learned Tissue Sparing THA


Mini-Symposium held prior to the Annual AAHKS Meeting
Hyatt Regency DFW, N. International Parkway, DFW Airport, TX
November Friday 5, 2010
Hope to see you at one of these excellent courses.
JISRF Activities Follow-Up
Metal on Metal (MoM) Bearings in THA - Surgeon Interviews
As part of our follow-up to our previous MoM survey I had a a nice conversation with Dr. Michael Mayor of Dartmouth who then introduced me to Dr. Stephen Tower.

Prof. Michael B. Mayor, MD


William N. and Bessie Allyn Professor of Orthopaedic Surgery
Dartmouth Medical School
Hanover, NH
Adjunct Professor of Engineering

Stephen S. Tower, M.D.


Physician with the Anchorage Fracture & Orthopedic Clinic
Anchorage, AK Member of the clinical
faculty of the University of Washington
Steve, I've recently been in touch with Tim McTighe, who is running the Joint Implant Surgery and Research Foundation, and he expressed a sincere interest in hearing more about your reports and an interest in helping your perspectives gain wider distribution.
If it's alright with you, I'd be happy to send a copy of the writing you've done, or you could be in touch with him directly and send him what you'd prefer.
I've known him for a long time, respect his motives and support the effort he has put out on behalf of the relationships between the clinician and industry.
Michael
Hi Tim,
Did Michael e-mail you a copy of the orthopedic focused paper I wrote on Arthroplasty Related Cobalt Poisoning (ARCoP)?
Attached is a synopsis of those cases. One error that I missed was that the previous reported cases of ARCoP were due to MoMTHAs, actually they were due to a CoM mis-couple in one, and to MoP revision post ceramic head fracture in two.
Cobalt poisoning has been well described since the mid-sixties related to medicinal use of cobalt chloride in anemic patients, industrial exposure due to cobalt powder, and excessive ingestion of beer "fortified" with cobalt sulfate. There is a common thread of cardiac, neurologic (central and peripheral), and thyroid toxicity.
It is odd that the investigational literature on MoM bearings only notes the concern of carcinogenicity and missed the known toxicity to the heart, brain, thyroid, and peripheral nervous system.
Also concerning are studies that suggest that long term low grade cobalt exposure results in subclinical cardiomyopathy and cognitive impairments.
I found Ian Clarke's spin on the clinical results of MoMTHAs and RSAs to be rather Pollyannish. Most studies with good f/u cohorts, not published by parties financially invested in the technology, suggest a failure rate of 1% per year just due to metallosis complications alone. I am not aware of any controlled studies that show any merit of MoM over MoP concerning survivorship. Those studies that suggest improved function tend to be uncontrolled and unblinded.
Another under appreciated reality is the complicated nature of revision of failed MoMTHAs. Due to the necrosis of the periprosthetic tissues the revised hips are prone to instability and for unclear reasons tend to remain painful. In our series the revised hip of patient A has now had two anterior dislocations requiring general anesthetic for reduction and one anterior subluxation that was self reduced. Patient B has now has had a perched anterior subluxation of his revised hip that required reduction under sedation in the ER. I have another patient with ALVAL post Durom that had complete loss of capsule. He dislocated his revision anteriorly multiple times and had to be revised yet again (fortunately, successfully to present). His SCoLs were not elevated so likely he had true ALVAL and not ARMD.
High volume surgeons that use MoM bearing likely have patients in their practice with cobalt toxicity, they are just not recognized.
A major worry is that almost all of the studies that report serum cobalt levels (SCoLs) in patients with MoMTHAs note outliers with values in excess of the two patients that I have reported on .
Happy to answer any questions you might have.
Given the off-world nature of Alaska e-mail works best for me.
Sincerely
Steve
Cobalt Toxicity in Two Hip Replacement Patients
Introduction
Over the past decade, cobalt-chromium Metal-on-Metal Hip Arthroplasty (MoMHA) has been performed with increasing frequency throughout the United States, particularly in active and younger patients. During a recent review of the Nationwide Inpatient Sample database, 35% of 112,095 primary total hip replacements performed in the United States between October 1, 2005, and December 31, 2006 were MoMHAs.1 Cobalt and chromium ions are commonly detected in the blood and urine of MoMHA patients as a result of wear at the bearing surfaces over time. The accumulation of metal ions in the areas surrounding the prosthetic joint can cause metallosis, indicated by the formation of giant cells and fibrosis in surrounding tissue. Patients with malfunctioning MoMHAs can have Serum Cobalt Levels (SCoLs) that are more than 100-fold that of physiologic levels.2
An essential trace element, cobalt can cause serious adverse health effects at high exposure levels. Serum concentrations >1 mcg/L indicate possible environmental or occupational exposure, and concentrations >5 mcg/L are considered toxic.3 Signs and symptoms of cobalt poisoning can include visual impairment, cardiomyopathy, cognitive impairment, auditory impairment, hypothyroidism, peripheral neuropathy, and rashes.4 Three prior case reports note blindness, deafness, heart failure, peripheral neuropathy, rashes, and hypothyroidism in patients with SCoLs >200 mcg/L due to a malfunctioning MoMHA.5-7 This Bulletin describes two Alaska patients who experienced notable neurologic and cardiac symptoms following MoMHA.
Case Reports
Patient A, a fit, otherwise healthy, 49 year-old male received a MoMHA for osteoarthritis. An echocardiogram performed prior to his MoMHA showed normal myocardial function. At 3 months post-op, he complained of bilateral axillary rashes. At 8 months post-op, he reported unaccustomed shortness of breath. Pulmonary function tests and allergy testing for metals were normal. At 18 months post-op, he reported anxiety, headaches, irritability, tinnitus, and hearing loss. An audiogram confirmed high-frequency hearing loss. At 30 months post-op, he reported pain interrupting sleep, hip creaking, hand tremor, diminished coordination, slow cognition, poor memory, and lassitude. At 36 months post-op, a non-refractive loss of peripheral visual acuity was noted; at this time, his SCoL was 122 mcg/L.
The patient was indicated for revision surgery due to progressive hip pain and high SCoLs. An echocardiogram performed prior to the revision showed diastolic dysfunction. The revision was performed 43 months after the first surgery. At revision surgery, the periprosthetic tissues showed necrosis and staining with metal debris and visible wear of the retrieved bearing. At 1 month post-revision, Patient A's SCoL was 14 mcg/L. At 6 months post-revision, he reported that all symptoms were improved except the visual changes.
Patient B, a fit, otherwise healthy, 49 year-old male received a MoMHA for a failed arthroplasty. At 12 months post-op, he complained of mental fog, memory loss, vertigo, hearing loss, groin pain, rashes, and breathlessness. At this time, his serum cobalt level was 23 mcg/L. At 18 months post-op, an echocardiogram showed diastolic dysfunction. He was observed until 40 months, when revision surgery was performed for progressive hip pain. Just before the revision, Patient B's SCoL was 23 mcg/L. At revision surgery, the periprosthetic tissues showed necrosis and staining with metal debris and his retrieved bearing showed visible wear. At 2 days post-revision, his SCoL fell to 11 mcg/L. At 3 months post-revision, his symptoms were improved.
Discussion
MoMHA patients for whom revision surgeries are indicated due to pain often have implant malposition and periprosthetic metallosis. Additionally, these patients often have high SCoLs despite normal renal function and are at risk for cobalt poisoning. Patients with impaired renal function may experience cobalt poisoning without the presence of pain despite a well positioned implant because the cobalt released by normal implant wear is not adequately cleared by their kidneys.
In April 2010, the United Kingdom's Medical Products and Healthcare Devices Regulatory Agency published a medical device alert that recommended following MoMHA patients for cobalt toxicity symptoms at least annually for 5 years postop.8 The alert also recommended considering SCoL testing and imaging studies for patients who report painful hip replacements, and performing follow-up SCoL testing 3 months after the first test in patients with SCoLs >7 mcg/L in order to identify patients who require closer surveillance.
These two Alaska case reports underscore the importance of monitoring MoMHA patients for signs and symptoms of cobalt toxicity.9
Recommendations
Health care providers should be aware that patients with a MoMHA implant are at risk for cobalt poisoning, and might present for medical attention to non-orthopedists with cardiac or neurologic symptoms resulting from cobalt poisoning
Health care providers should ask MoMHA patients who are known to have shell malposition, persistent or worsening hip/groin pain, and renal insufficiency about cardiac and neurologic symptoms, including tinnitus and hearing loss, and consider obtaining a SCoL
Health care providers should assess cardiac and neurologic function in patients with SCoLs >7 mcg/L
In consultation with the patient's orthopedist, health care providers should develop an individualized plan for symptom monitoring and possible revision surgery in symptomatic patients with an elevated SCoL
References
Bozic KJ, Kurtz S, Lau E, et al. The epidemiology of bearing surface usage in total hip arthroplasty in the United States. J Bone Joint Surg Am 2009;91(7):1614-20
Smet K, De Haan R, Calistri A, et al. Metal ion measurement as a diagnostic tool to identify problems with metal-on-metal hip resurfacing. J Bone Joint Surg Am 2008;90 Suppl 4:202-8
Leavelle DE, Mayo Medical Laboratories. Mayo Medical Laboratories interpretive handbook: interpretive data for diagnostic laboratory tests. Rochester, Minn.: The Laboratories; 2001
Smith IC, Carson BL. Volume 6-Cobalt An Appraisal of Environmental Exposure. 1st ed. Ann Arbor: Ann Arbor Science; 1981
Oldenburg M, Wegner R, Baur X. Severe cobalt intoxication due to prosthesis wear in repeated total hip arthroplasty. J Arthroplasty 2009;24(5):825 e815-20
Steens W, Loehr JF, von Foerster G, Katzer A. [Chronic cobalt poisoning in endoprosthetic replacement]. Orthopade 2006;35(8):860-4
Rizzetti MC, Liberini P, Zarattini G, et al. Loss of sight and sound. Could it be the hip? Lancet 2009;373(9668):1052
UK. Medicines and Healthcare Products Regulatory Agency; MDA/2010/033: All metal-on-metal hip replacements. Available at: http://www.mhra.gov.uk/Publications/Safetywarnings/MedicalDeviceAlerts/CON079157
ATSDR's Toxicological Profile for Cobalt. Available at: http://www.atsdr.cdc.gov/toxprofiles/tp33-c3.pdf
A letter-to-the editor in response to our posting of May 2010 on MoM Bearings in THA.
Hi Tim,

Thank you for sending this excellent update.
I have one minor "nit" to pick with your statement that "there is growing concern on the behavior of the smaller and potentially more reactive particles generated with crosslinking of polyethylene.
Harry sent in a detailed comment to our previous posting. In light of his expertise in this area I have invited him to submit a formal letter-to-the editor that JISRF is happy to post. Harry has agreed that upon his return from summer holiday he will submit it for our next publication. It will be published in its entirety upon reciept. We encourage interaction and welcome all comments.
Harry
Harry,
Thanks for your comments and I hope upon return from your summer vacation you will submit a more detailed report on crosslinked polys. JISRF is dedicated to communicating all points of view.
Also as a final to this edition I would like to make sure there is one correction to Dr. Bruce Shepherd's comment on my contributions to the S-Rom Knee. Dr. Shepherd gives me undo credit in his statement "A few years later when Tim adapted the design for knees, I did several S-Rom knee replacements as well." Although I was involved with the S-Rom Knee credit goes to Doug Knoiles, Tom Mallory, Dickey Jones and especially George Cipollitti who finalized the design and brought it to the market. I still believe the S-Rom Hip and Knee have made and continue to make significant contributions to its patients and to the industry at large.


Timothy McTighe, Dr. H.S. (hc)
Executive Director
Joint Implant Surgery & Research Foundation
Good material.

One of the areas to think about is the conflict of interest issues that we as physicians will have to deal with when the various Health Agencies start imposing more and more of their rules and make us act as the enforcers of their policies at the detriment of our patients. It is already happening and will get worse. The politicians and their clerks will abviously wash their hands of it and we will be the ones who will ration care, tell the patients and their families that we cannot operate, use implants that cost too much, restrict their medications etc..We will not be acting in the interest of our patients, we will not be allowed to read and hear anything other than politically processed "word" from Washington.

Got to go do another hip that is probably too expensive for the 67 y.o. waiting in the O.R.

Kris

Kristaps J. Keggi, M.D., Dr. Med.(h.c.)
Professor of Orthopaedics and Rehabilitation
Yale University School of Medicine
President and Founder - Keggi Orthopaedic Foundation
Middlebury, CT
Tim, nice reading. I went through the whole course. Nice job. Looking forward to palm springs and aahks. Tom
Tim,
I've reviewed the newsletter and loved it. I cannot agree more with your thoughts. I have been in my career to a number of industry sponsored courses. The first was a Richard's sponsored course on the Mittlemeir Hip held in Switzerland. I have attended and spoken at a number or Biomet and Zimmer sponsored courses. I will admit that early on these were heavy on the corporate slant. The pendulum hit center about fifteen years ago when courses were funded by the corporation, but a program director, usually an academic was responsible for content. Although still some noticable slant, the meetings were in fact a gathering of orthopaedists, most of which were already users of the company's product who spoke on their experiences and shared pearls of wisdom. These experiences improved my technical understanding of the product, made me a better surgeon and improved outcomes for my patients. I agree strongly with your point that we are educated, independent thinking, above average professionals who have complete capacity to judge the quality of studies, quality of data and quality of message. Who really has the right to tell us that some other entity is better suited to make these judgements?

Regards,
Terry
Hi Tim-
Looks fine to me. Happy to serve on the editorial board .
Steve
Well said.
When one looks at the advances in orthopedic surgery, they have all come out of commercial relationships. Art Steffee had to create his own company to get it done. Those in the university condemned his early work, only to have it now represent the standard of care worldwide. Let us not forget that the academics have their own turf and power to protect, and who is to say that their motivations are any more admirable. At least in the private sector the marketplace will serve as an impartial judge.
Lou
"run-amok". Nuf said... Agree with your thoughts. It's an issue of the pendulum swinging the wrong way.
Keith
Well Tim you have said it all before and are trying to repeat it again about the "proper relationship" between Industry and Clinicians……………………..but from one end of that relationship spectrum the chickens have not only come home to roost but the Chicken Board has shat all over the flooring of the henhouse!o
Surely the issue is about disclosure and accepting the facts that the "old days" when a researcher withheld scientific discoveries from his colleagues he was at risk of being judged unethical has passed…..he does it NOW but ONLY AFTER HE HAS PATENTED THE IDEAS……….!!!!!!!!!!!!!! so they don't unethically gazump him and profit from his innovation…….
We live in a commercial world and although orthopods would have advanced slowly in this modern era without companies investing in product, we have done it more rapidly WITH the presence of companies and innovation by orthopods and others assisting in a money-go-round which IS modern Commerce.
Disclose! Disclose! Disclose! and speak and educate peers and aspirants to be your Peers but don't allow Governments and Legislators making late efforts to understand "ethics" in our lives thwart information sharing unreasonably.
Down under we had a phase where pre disclosure, no clinician could give a paper at an Orthopaedic Association accredited meeting unless it was divorced from product illustration, ie we welcomed talks on principles. Companies were free to run product aligned meeting which we wouldn't accredit and yet we realized that if our members were to be skilled in new product use they would and should be encouraged to be properly taught and preferably by experts……….a dilemma to us at the time………
So back to your dilemma where the key is disclosure without co-ercion to product align to anyone and continue a "proper" working relationship with the risk takers of our innovators in Commerce.
John Harrison
You will need the Adobe Reader to view and print these documents.