JISRF Activities
Current Activities
February 1, 2010
Haiti - Stepping Up and Out - The Orthopaedic Medical Community Responds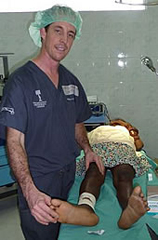 Dr. Bradley Walter
By its nature Medicine is the art and science of healing. It encompasses a range of health care practices evolved to maintain and restore health by the prevention and treatment of illness. People and organizations make a conscious decision to pick this path in life.
When tragic situations such as earthquakes, tornados, hurricanes and other disasters hit local communities one global community at large steps up. The Medical Community. I am proud to be a part of such a responsive group of people, organizations, and companies. It is not possible to point out all the exceptional examples of this large medical community at work, but JISRF wants to highlight one individual that represents the best part of this community.
Dr. Bradley Walter practices Orthopedic Surgery in Thomasville, Georgia. Dr. Walter is 41 years old and graduated from medical school 16 years ago. He is a general orthopaedist with special interest in total joints and sport medicine. He is married with six children. Certainly he is at the critical path to growing his practice and taking care of his family. However, he is just one example of the many that heard the need and stepped up.
 The following are his comments on the many experiences his trip to Haiti provided.
On January 12, 2010 a magnitude 7.0 earthquake struck the island nation of Haiti. Within hours the pictures of the devastation began to circulate. The volume and severity of the injuries looked overwhelming. My conviction to go was solidified when my wife immediately called me and told me she had called my contacts at CURE International and that they needed me to go ASAP. I must admit I had a fair amount of apprehension, but we had recently been talking with our kids about what it means to put faith into action, so we decided that this was one of those uniquely ordained moments to do just that.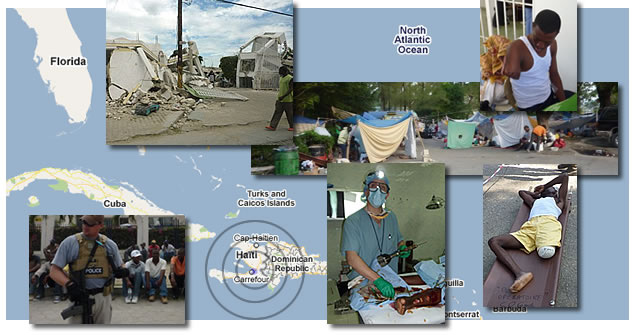 My initial plan was to go on Thursday, but after hearing about the desperation of the situation, I packed up and headed to Fort Lauderdale with about 500 lbs of supplies. We were originally scheduled to leave on Monday @ 6:00 P.M., but our slot into Port-au-Prince was cancelled and rescheduled for 8:00 A.M. We arrived into Port-au-Prince on time and found the airport absolutely packed. I must say that the magnitude of the U.S. relief effort made me proud of our Nation and its inherent generosity. C-130's and other military cargo aircraft covered the tarmac. Private aircraft from U.S. individuals and companies were there en mass with supplies and transportation for the wounded.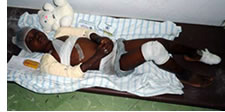 We immediately went to the Hospitale Generale. The wounded lined the halls on makeshift stretchers waiting for treatment. There were throngs of patients with open fracture now infected from days without treatments. We immediately set to work. My contact from CURE and friend Dr. Scott Nelson had set up a system triaging patients with 1, 2, or 3 ranking taped to their forehead. The most severe injuries were prioritized first. Closed fractures unfortunately would wait for days for care.
After only several hours, we got word that the Hospital Adventista had no Orthopedic surgeon. With 80-90% of the injuries being orthopedic, we decided that I would go to the other hospital. When I arrived, I was pleasantly surprised to find another Orthopedic surgeon and his General Surgery colleagues. We started the process of getting the OR up and running. Our supplies were very limited and we had no sterilizer. We used Cydex, alcohol, and betadyne to sterile our instruments and materials. Treatment consisted mainly of amputations, external fixators, and wound debridement.

Almost all of the open wounds were secondarily infected with many of the patients becoming septic. As busy as our training experiences can be, I having never been in a situation where the numbers of patients waiting for care wouldn't increase daily despite the feverish pace of our work. As the surrounding communities found out we were operating, the wounded would pour in day after day.

The importance of teamwork has never been so clear. Shortly after I arrived, several OR nurses including a veteran Orthopedic nurse arrived to save the day. It made me appreciate at a new level the support staff that makes what we do on a daily basis so much smoother. After 3 days, four new and fresh orthopedic surgeons arrived to give us some relief…"tag your it".
On Saturday afternoon, I headed to the airport with the satisfaction of knowing that I was leaving the OR with a really great team. My intention was to catch a military transport back to Homestead, Florida, but I was instead able to hitchhike onto a 737 to Miami. Ahhhhh, a hot shower and a Subway sub.
My hope is that the orthopedic community will not forget Haiti. The needs there are going to continue for months, even years to come. I believe that everyone who goes will experience what I did, that when we endeavor to bless others, we are always more blessed ourselves.
- Brad Walter, MD
The orthopaedic community should be proud of their response in this time of need. I would like to also acknowledge the AAOS, AAHKS, CURE International and the many orthopaedic organizations, companies, and individuals that have reached out. This is a time to support those who are trained to respond in these difficult situations. Lets not forget that charitable dollars play an important role in support and the rebuilding process. JISRF is committed to helping direct resources that assure the best possible orthopaedic care is made available to the Haitian people.




Timothy McTighe, Dr. H.S. (hc)
Executive Director, JISRF
February 11, 2010
JISRF Announces Its Support to The International Congress of Joint Reconstruction (ICJR)

Over the past few months I have had the opportunity to attend three of their recent seminars. The most recent was held this past January in Park City, UT
JISRF was pleased to be able to help arrange for Dr. Allen Turnbull to attend and present data on the Australian Total Joint Registry. ICJR had significant support from a broad based Faculty and excellent course planning with Course Directors - Arlene D. Hanssen, MD, Giles R. Scuderi, MD and Aaron Hofmann, MD.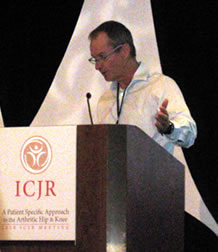 Dr. Allen Turnbull, Member of JISRF's Clinical/Surgical Advisory Board presents updated information from the Australian Total Joint Registry.

Continuing education does not stop with the ICJR meeting but continues out on the slopes where both Turnbull and McTighe take some individual lessons on the slopes.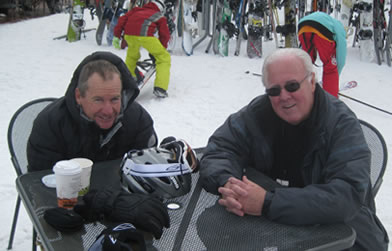 Allen Turnbull and Ricardo Heros enjoying a break for recharging the batteries and some fellowship. I have been around for 40 years and Ricardo is senior to me and looking good. A good time was had on the slopes with no orthopaedic injuries.
JISRF endorses the mission of ICJR and pledges the following ten JISRF members as charter members. JISRF further encourages all orthopaedic surgeons and scientist interested in total joint surgery to become active members in ICJR. There is a need for the orthopaedic community to remain unity in all CME activities. It is also important that all non-profit foundations find a way to support and work together. These economic times makes all our missions more difficult.
Timothy McTighe, Dr. H.S. (hc) Chagrin Falls, Ohio
Allen Turnbull, MD, Sydney, Australia
Louis Keppler, MD, Cleveland, Ohio
John Keggi, MD, Waterbury CT
Bradley Walter, MD, Thomasville, GA
Ed McPherson, MD, LA, CA
Bradley K. Vaughn, MD, Raleigh, NC
Thomas Tkach, MD, OKC, OK
Terry Clyburn, MD, Houston, TX
Russell Nevins, MD, Las Vegas, NV
Membership in The International Congress of Joint Reconstruction (ICJR)
On behalf of the ICJR Board of Directors, we would like to invite you to become a charter member of our not-for-profit educational community.
As a charter member you will be encouraged to attend future meetings as either a course registrant or faculty member using all the benefits of membership including rate reductions, interactive internet community activities, and online CME programs.
As you are aware, ICJR is a charitable not-for-profit organization whose mission is to "give back" to the orthopedic community, and at this point we will have no compulsory initiation fee or annual dues. However, we would welcome a voluntary donation of $250 in recognition of your commitment. Donations can be made by clicking on the membership button.
Cognizant of our current economy, however, the Board would like to restate unequivocally that this contribution will be voluntary and should circumstances hamper your philanthropy at this time, we still wholeheartedly welcome your participation.
If you chose to accept our offer, we are going to ask your help in inviting five other orthopedists who perform joint arthroplasty to join our educational community.
We would like you to "take ownership" of this invitation process and personally commit to membership in ICJR. This grassroots recruitment process will allow ICJR to grow and create an all inclusive community for orthopedic education.
Please check out their web site: www.icjr.net or you can find a link on our nonprofit alliances page.
February 8, 2010
Tissue Sparing Techniques Using the Single Incision Anterior Approach
Our last ENEWS-Update January 6, 2010 highlighted Dr. Ed McPherson in evaluating Tissue Sparing Hip Techniques using a small posterior approach. This edition will highlight a single incision anterior approach performed by Dr. Bradley Walter.
Dr. Walter has been interested in tissue sparing approaches for THA and has been using the single anterior approach and short cementless stems for the past few years.
| | |
| --- | --- |
| | |
| | |
| | |
| | |
| | |
| No special table or instruments are required if a short stem is used. | Excellent exposure of the acetabulum even with a high neck osteotomy. |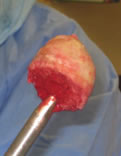 High neck cut
| | |
| --- | --- |
| | |
| Supine position provides good orientation for the socket preparation and insertion. | Good exposure of the proximal femur. |
| | |
Femoral rotation can be misleading on stem orientation. However with this curved tissue and neck sparing stem design distal stem position is not necessarily a negative finding as compared to conventional cemented or conventional cementless length stems. We have found that with this particular stem style that slight varus, neutral or valgus distal stem position has had no difference in clinical and radiographic outcomes at two years.

The distal stem for this design has less function than conventional cementless stems that rely on stem/bone contact for reduction of torsional loads.

The distal stem has an angled relief to reduce chances of end stem contact.
As you can see from this 15 month post-op (now 26 months post-op) there has been visually no changes to x-ray appearance.

Good medial conical flair contact, no distal pedestal, no reactive lines and no apparent medial calcar bone loss.

Note: The lateral cortical neck is retained with the curvature of the stem. This functions like a tension band maintaining strong resistance to both axial and torsional loads. It further provides a physical barrier restricting any potential particulate debris from migrating down the lateral side of the stem.

This curve design also reduces soft tissue injury to the abductors during preparation and stem insertion.
As seen here in these two proximal x-ray comparisons the bottom is a view of the curved neck sparing design size 2 rasp with good proximal fit and excellent maintenance of both the medial and lateral portions of the neck. This was then converted to a short taper style stem and required more removal of both vertical and lateral neck, resulting in a lager stem (size 5) being needed for good implant/bone stability.

This case confirms previous case studies that on average a size two curved neck sparing stem results in a size 5-6 short tapered style stem requiring more vertical medial and lateral neck removal.

It also re-confirms that no special tables or instruments are needed to insert a small curved neck sparing stem in a single incision anterior approach.