JISRF Activities
Current Activities
December 4, 2009
JISRF Announces New Study Group for Total Hip Arthroplasty
JISRF announces the formation of a new study group of international surgeons and scientists to examine the tissue sparing approach to THA. The following is an ad to be placed in the February 2010 edition of the The Journal of Arthroplasty published by the American Association of Hip and Knee Surgeons. Findings will be posted on the foundation's web site at www.jisrf.org.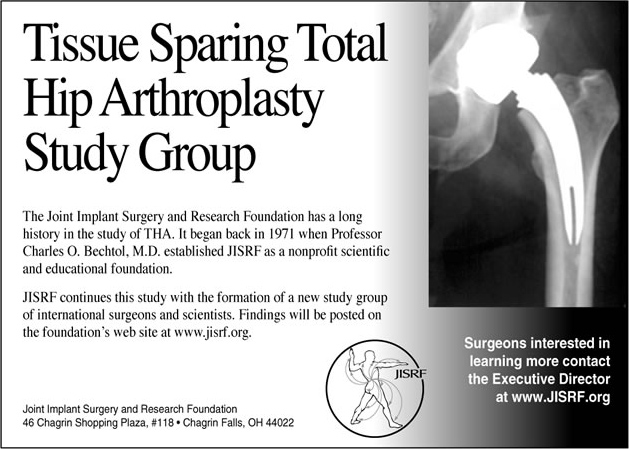 November 28, 2009
JISRF Participates In Two CME Activities In Australia
Continuing a tradition started in the 1970's by Professor Bechtol.

Ron Emes, Timothy McTighe, Tom Tkach & Brad Vaughn
Seeing the local sights never gets old for some of our seasoned travelers. This was Brad's third trip to Sydney and approaching twenty for McTighe enjoying fellowship with friends and colleagues Ron and Tom on their first trip down under. A short tour of the Harbor then all were off to observe some hip surgery at St. Vincent's Hospital in Sydney.
| | | |
| --- | --- | --- |
| | | |
| McTighe, Vaughn and Tkach observe Dr. Ian Woodgate performing a neck sparing THA at St. Vincent's Hospital in Sydney Australia. | Dr. Ian Woodgate hosting our visit and preparing patient for a neck sparing THA. | The neck sparing hip design "MSATM Stem" |
Lecture at the "Research on Modularity" Hip Scientific Meeting held at Sea Temple Resort, Port Douglas
Faculty

International
Tom Tkach, USA
Bradley Vaughn, USA
Del Schutte, USA
Timothy McTighe, USA
Andrew Mankilow, UK

Local Faculty

Peter Hannaford, NSW
Allen Turnbull, NSW
John Ireland, NSW
David Wood, WA
Dermot Collopy, WA
Michael Ribot, NSW
Professor Ireland introduces Dr. Tom Tkach lecturing on "Intraoperative techniques for proximal modular total hip stems"
"Research on Modularity Hip Scientific Meeting"
Sponsored by Global Orthopaedic Technology 9 & 10 October 2009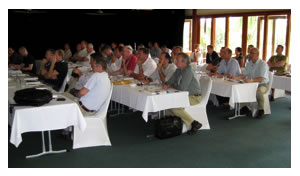 Topic ranged from "Restoration of Joint Mechanics. How Does The Stem Play a Role?" to
How to manage femoral offset preoperatively
Neck sparing vs. hip resurfacing vs. conventional, how to choose?
Are large heads necessary with proximal modular stem designs?
Tapered stems with and without modularity
Along with much more, all with significant debate from the attendees.
Australian Orthopaedic Association 69th Annual Scientific Meeting
11-15 October 2009, Cairns Convention Center, Queensland Australia
The AOA by Timothy McTighe, Dr. H.S. (hc)
I have had the pleasure of traveling, lecturing and visiting friends and colleagues in Australia since 1987. I was blessed that my dear friend and mentor Professor Charles O. Bechtol had a friend in Dr. Bruce Shepherd. Charles introduced me to Bruce in 1985 and in 1987 Bruce invited me over to Australia to do some S-Rom® Hips. That was my introduction to Australia and my introduction to the AOA.
Great friends & Colleagues Celebrate Bruce Shepherd's 75 B'day in 2007

Allen Turnbull, Bill Walter, Bruce, McTighe, Warwick Bruce, John Harrison, John Ireland (kneeling)

| | |
| --- | --- |
| 1. | Oral paper "Changes in Ethical Conduct-Trends in the USA" By McTighe, Tkach & Ford |
| 2. | Oral paper "The Value of Intra-operative X-Rays for THA" by Keppler & McTighe |
| 3. | Oral Paper "Wear of M-O-M HA Coated off-the-shelf hip Bearings" by Bowsher, Clarke, Turnbull, Donaldson, Keppler Woodgate & McTighe |
| 4. | Poster "Intra-operative Techniques in Using Proximal Modular Stems" by Tkach, Low & McTighe |
| 5. | Poster "Case Report on Proximal Modular Dual PressTM Design Total Hip Stem" by Keppler & McTighe |
Over the years I have planned many of my trips to coincide with the annual AOA meeting. My wife, Cathy, and I have had the pleasure of great social moments associated with the AOA especially when our dear friends John and Debbie Harrison were representing the AOA as President and First-Lady.
Presidents
2005 Dr. John Harrison AOA
Dr. Robert Bourne COA
Another great gathering in Australia
John Harrison with Cathy and Tim McTighe
| | |
| --- | --- |
| | |
| Tkach & McTighe in front of Keppler exhibit | Tkach & Emes in front of Tom's poster on Intra-operative techniques for modular stems |
FROM THE EDITOR
JISRF had a very good showing at this years meeting with five of six abstracts accepted for presentation.
As one of the few Affiliate International members of the AOA were are grateful and honored for the opportunity to participate with this world class educational activity.
The Australian Orthopaedic Association
70th Annual Scientific Meeting
Adelaide 10-14 October 2010
What a great excuse to come visit and experience Australia. Not only is this meeting one of the best orthopaedic conferences in the world, you get to meet great people with great humor that are truly lovely to be around. You will make lifetime friends and develop professional relationships that will aid you in your career and help guide you in your chosen profession. An example is the fine work that is being done with the National Joint Replacement Registry. This is becoming the most quoted Joint Registry for direction on outcomes. It is a model the United States respects and may very well decide to follow.
Some recent data from the 2009 Annual Report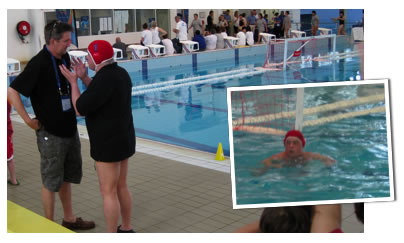 Not All Work
World Champions Gather
John Harrison former AOA President 2005 and former member of the Australian Olympic team (1968 Mexico) decided to play hooky this year from the AOA to practice for The World Champions Water Polo match. John's team made it to the finals but did not prevail this time.
He gets A+ for style!
 Plan to attend the AOA next year!

The New Form of Abuse "Bias Information"
by Timothy McTighe, Dr. H.S. (hc)
There is a significant movement within the Continuing Medical Educational process to avoid any "bias information". The recent Justice Department probe and Congressional investigations into the medical device industry has everyone (professional medical societies) running scared and overreacting. There is significant discussion of removing commercial funding from CME to eliminate any bias information. This, in my professional opinion, is an overreaction and will create more problems than it could possible solve.
Lets look at a few facts that benefit our current system of education. The health Care Industry supports educational activities to the tune of about one billion dollars ($1,000,000,000) a year within the United States (WSJ's blog on health & the business of health 11/15/09). Our first assumption should be this is good because dollars are necessary to put effective teaching and learning tools into place. Imagine for a moment that we did not have this money available to education. How much longer would it take to train and educate our health care professionals? How many patients would suffer longer than necessary if our information on drugs, devices and techniques slowed down?
Who would pick up the financial slack, or would there just be a lag in training and education. The concern should not be that there is an industry supporting education, (thank God we have an industry that can help support educational activities) but focus should be on the process of disclosure not on elimination of funding sources.
I think we should be challenging our industries to increase their funding not looking at demonizing them because they do. We have with the Accreditation Council for Continuing Medical Education (ACCME® www.accme.org) procedures in place that are effective and do an adequate job with-regard to disclosure of commercial funding. These guidelines and standards need to be living documents that undergo their own review and modifications on an incremental schedule. Drastic or radical change is rarely beneficial.
It is time we challenged the proponents against "Bias Information" to back down and acknowledge all bias information is not bad. This is a term that is being misused and I for one look towards my selection of medical professionals to have strong biases within their practice of medicine. I just want them to disclose their biases.
Lets look at this term: bias
A term used to describe a tendency or preference towards a particular perspective, ideology or result.
The key is that bias information should be balanced with other or different perspective "Bias" information so there is a balance of information presented within the content of a given subject matter.
I suggest we all want to hear bias information because this information is often the result of training, experience and results. We don't necessarily want to hear bias information that is based on monetary reward. However, often presentations and/or publications can have multiple biases within any given subject material. The proper way to inform individuals of "bias" information is through disclosure not by elimination. Only by disclosure can the audience determine if the quality of the information has true merit.
Just the fact of monetary interest does not suggest that the bias presentation does not have significant merit in its content, method and conclusions. The fact that there is a disclosure with regard to monetary benefit to the author should be considered and reviewed from that point of reference.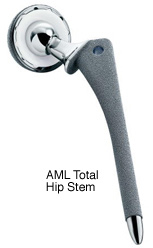 Example:
A Total Hip Arthroplasty performed with the selection of femoral component being fully porous coated like the "AML® Stem", suggest that the use of this device demonstrates a preference towards a device with extensive porous coating over the length of a cylinder style stem. Over the years, some surgeons that have lectured on their use of this stem have disclosed the fact that they had a financial interest in the device. This disclosure in no way changed the fact of the long-term clinical results, benefits and/or potential problems related to this device.
In my 39 years in the orthopaedic health care field I have never known any surgeon that has switched his selection of product and/or technique as a result of hearing one bias talk.
I have found just the opposite. Surgeons, because of their own biases due to their training and experience, are reluctant to change. They only change as a result of significant information that addresses a problem or concern they have experienced.
I am bias towards bias information remaining as part of our educational activities and I also continue to indorse the use of commercial funding for CME activities and wish the industry would increase its budget for balanced CME activities.
This is a subject that should be important to all of us involved with health care. Please feel free to contact us with your thoughts, JISRF welcomes all points of view.
You will need the Adobe Reader to view and print these documents.