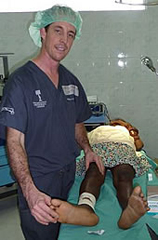 Dr. Bradley Walter
Haiti - Stepping Up and Out - The Orthopaedic Medical Community Responds
When tragic situations such as earthquakes, tornados, hurricanes and other disasters hit local communities one global community at large steps up. The Medical Community. I am proud to be a part of such a responsive group of people, organizations, and companies. It is not possible to point out all the exceptional examples of this large medical community at work, but JISRF wants to highlight one individual that represents the best part of this community.
Dr. Bradley Walter practices Orthopedic Surgery in Thomasville, Georgia. Dr. Walter is 41 years old and graduated from medical school 16 years ago. He is a general orthopaedist with special interest in total joints and sport medicine. He is married with six children. Certainly he is at the critical path to growing his practice and taking care of his family. However, he is just one example of the many that heard the need and stepped up.
JISRF Announces Its Support to The International Congress of Joint Reconstruction (ICJR)
Over the past few months I have had the opportunity to attend three of their recent seminars. The most recent was held this past January in Park City, UT
JISRF was pleased to be able to help arrange for Dr. Allen Turnbull to attend and present data on the Australian Total Joint Registry. ICJR had significant support from a broad based Faculty and excellent course planning with Course Directors - Arlene D. Hanssen, MD, Giles R. Scuderi, MD and Aaron Hofmann, MD.
Tissue Sparing Techniques Using the Single Incision Anterior Approach
Our last ENEWS-Update January 6, 2010 highlighted Dr. Ed McPherson in evaluating Tissue Sparing Hip Techniques using a small posterior approach. This edition will highlight a single incision anterior approach performed by Dr. Bradley Walter.
Dr. Walter has been interested in tissue sparing approaches for THA and has been using the single anterior approach and short cementless stems for the past few years.