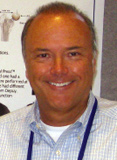 Dr. Edward James McPherson
Rewarding Opportunities
My role with the Foundation often provides me with very rewarding opportunities. Not only do I interact with orthopaedic surgeons, but I also participate in interesting and unusual surgical problems. From time to time, however, there is the opportunity to get to know and provide some service directly to patients. It is these types of opportunities that remind you of the real reward of all the work we do in the healthcare industry. Consultation takes on different aspects at different times. December 2009 gave me the opportunity to consultant on three different aspects of orthopaedic health care.

Dr. Russell T. Nevins
Case Report – Hip Fusion Takedown on a 18-Year-Old Male
by Timothy McTighe, Dr. H.S. (hc)
Dr. Russell T. Nevins is a Member of the JISRF newly formed Tissue Sparing Implant Study Group and this article will highlight a recent case we consulted on with Dr. Nevins.
The patient was in his usual state of good health until age 14 when he became spontaneously septic. He was placed on ID pressors and subsequently lost his toes from vasoconstriction. He developed AVN of the femoral head. He does not think he was on any prednisone. He was then treated with a hip fusion. During the hip fusion the surgeon decided to do a subtrochanteric osteotomy which left the patient with a deformed proximal femur. He was placed in a hip spica cast for over 5 months. He believes he was also infected in the cast, but after speaking to him it sounds as if he had wound breakdown from the cast and not a deep infection.

Professor Kristaps Keggi
Katie Smith Gets a "Second Opinion" from Dr. Keggi
by Timothy McTighe, Dr. H.S. (hc)
On a recent trip to Los Angeles, California I met a very pleasant gentleman named Eric. His sister has some very specific orthopaedic related problems. She is from the Hartford, CT area and is facing some challenging times.
Over the years I have had the pleasure of getting to know and work with excellent surgeons all over the country. In that regard I have worked with Professor Kristaps Keggi and his group John Keggi and Robert Kennon. I suggested to Eric his sister might want to seek their opinion.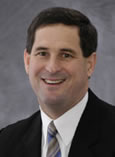 Dr. Edward James McPherson
Tissue Sparing Techniques in Total Hip Arthroplasty
by Timothy McTighe, Dr. H.S. (hc)
Case Report – Intra-operative evaluation of a new approach to neck sparing THA
There is a current trend towards using short stems for Total Hip Arthroplasty (THA). This is exciting because there is a distinct advantage in preserving bone and soft tissue. Minimal utilization of bone stock is vital given the fact that revision hip surgery may be required in the future.
Dr. Edward James McPherson is the Director of Orthopedic Surgery at the L.A. Orthopedic Institute in Los Angeles, California, and is Director of the California division and Board member of JISRF. He is board certified in orthopedic surgery and specializes in total knee replacement surgery and total hip replacement surgery using the minimally invasive technique.