JISRF Activities
Current Activities
January 11, 2010
Recently posted on Policy and Medicine
Sales Reps in The Operating Room - There is Room and Need for Them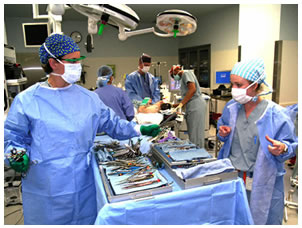 A recent article in the Washington Post described how company representatives for medical device companies are allowed to participate in operations. Rather than focusing on the impact and legitimate reasons why such representatives are permitted entrance into the operating rooms, the author of the article chooses to focus on meaningless details and one negative case.
The article does not acknowledge that most representatives who work in operating rooms carry at least three separate credentialing certificates: a blood borne pathogens card, an OR protocol card and a HIPPA compliance card. In order for these representatives to become certified to enter the OR, they must successfully complete class work and exams administered by independent training organizations.
Seemingly, the author's progress with discussing one particular salesman who works with Kyphon, a manufacturer of medical devices used to repair fractured vertebrae. As the article itself states, the salesmen who entered the ORs was "doing his part to advance a new procedure called kyphoplasty."
The article uses this positive example of how a salesman could help develop a new procedure to assert that salesmen in ORs are merely a reminder that "medicine is business." That medicine is a way for company's to "promote efficiency, boost sales and extract profit." What do they expect? Saving lives and making people healthy is not free, and up until now, the government hardly ever took an interest in it, other than seniors and veterans (the people most likely to vote).
What complaint can these authors or the public possibly have about representatives bringing artificial hips or knees, or pacemakers to the OR? Do we ask to see the butcher who killed the cow before we eat a cheeseburger? Do we care about the oil drillers who provide us gas before filling up the tank? Saving lives is a business because the investment is a matter of life or death, happiness or pain.
Accordingly, the article asks whether company representatives should be in the OR. In response, the authors themselves noted that "in an age of rapidly proliferating technologies, the salesmen may know more about their products than the doctors who use them do." In addition, sales representatives can provide data about the relative effectiveness of one product versus another or "even about the merits of doing one procedure over another." The article also acknowledges that company representatives "speed procedures along, making time for more."
One orthopedist, Ted Parks, even noted that sales reps "are critical to the efficient execution of hip and knee replacements." Additionally, David Nexon, senior executive vice president of the Advanced Medical Technology Association, asserted that "many medical devices could not be used -- or used safely -- without sales reps."
On the other hand, some believe that sales reps are there to only sell their products, and not to recommend what is best for the patient. These critics believe that doctors should not have to rely on sales reps expertise. But with such fast advances in technology and new devices, who is going to bring doctors up to speed, especially when a patient has little time to wait?
What critics easily forget is that these reps are actually making a difference and helping save lives, as Vince Proffitt, a spinal implant salesman noted. He added that salesmen are not only helping patients, but doctors as well by creating a team atmosphere to support every effort at a successful surgery.
Jim Rogers, a former sales executive and founder of the American Institute of Medical Sales, began training people to be salesmen in operating rooms last year. He noted that the "curriculum at the institute ranges from how to perform a joint replacement to how to get inside a surgical suite without an invitation." The institute even includes training on anatomical models called sawbones.
Still, opponents of reps in the OR believe that "it can put the interests of manufacturers before those of patients." They also cite a 2003 case involving Endovascular Technologies who pleaded guilty to federal charges that it covered up malfunctions of a device used to treat aortic aneurysms. While this case should not be ignored, the public must realize that devices and any surgery or treatment come with risks.
In order to minimize those risks, "most surgeons who use medical devices in their procedures expect a technical field rep to be present during the procedure, because they understand that the rep's special product expertise enhances patient safety," according to Medtronic spokesman Charles Grothaus.
In some devices such as Left Ventricular Assist Devices (LVAD) for patients waiting for heart transplants, surgeons may have one or two patients in the course of a year who qualify for the device. It is important that a representative from the manufacturer is present to ensure successful placement of the device.
Accordingly, technical reps also get doctors interested in new procedures and breakthroughs, and then teach them in "one-day courses in which they practice on cadavers." These classes involve "other surgeons who lead the class, while the hands-on training is done mostly by the sales reps."
While the case the Post talked about highlighted one negative story, they underscore the importance of technical field reps who are usually the most technically trained people in the industry. Moreover, there concern for conflict should be minimal, if any, since there are no sources of gifts or food in the OR, just hip replacements and pacemakers. The idea that these sales reps are "selling in the OR" is problematic because journalists forget that these devices and equipment are upgrades from older equipment that lead to more successful performance on a patient.
Ultimately, working with new technology and devices requires more then just theoretical learning: it demands hands on experience that highly trained members of industry are suited to provide. The sales reps are not the ones deciding to use a particular device or procedure, the doctor is. Once a physician makes this choice, the doctor has an ethical responsibility to the patient to use all sources of assistance, including sales reps, to make sure the procedure goes as planned.
As a patient, would you rather have your new hip delivered in a box the day of your surgery by FedEx or have the manufacture send a sales rep to the OR with your hip who can help your doctor with your surgery?
The industry should consider re-labeling these company sales reps as technical assistants or technical engineers which is the job they end up doing anyways.
By allowing sales reps into the OR, doctors can focus more on the clinical benefit to patients and rapid implementation of these beneficial new options without unnecessary delay or undue risk to patients based on operator inexperience.
January 6, 2010
Case Report - Hip Fusion Takedown on a 18-Year-Old Male

Dr. Russell T. Nevins
by Timothy McTighe, Dr. H.S. (hc)
Dr. Russell T. Nevins is a Member of the JISRF newly formed Tissue Sparing Implant Study Group and this article will highlight a recent case we consulted on with Dr. Nevins.
Russ was born in Spring Valley, New York. He received a Bachelor of Art Degree in Psychology in 1991 from Washington University in St. Louis, Missouri. While at Washington University, he received an Outstanding Service Award from the American Red Cross and was inducted into the Alpha Phi Omega National Service Fraternity. Focusing his research on patients with Alzheimer's disease, he published an article in The Journal of Neuroscience.
He graduated from the George Washington University School of Medicine in Washington, D.C. Following medical school, he completed an Internship and Orthopedic Surgical Residency at Montefiore Medical Center/Albert Einstein School of Medicine in the Bronx, New York. His residency training included: General Orthopedic Surgery, Trauma Fracture Care, Total Joint Arthroplasty, Hand Surgery, Arthroscopy, Sports Medicine, Pediatrics, and Foot & Ankle Surgery.
Dr. Nevins completed an additional year of subspecialty Fellowship Training in Adult Reconstructive Surgery, specifically arthritis and joint replacement using the most current exposure techniques and implant materials, at the Institute for Bone & Joint Disorders in Phoenix, Arizona.

He was involved in research throughout his Residency and Fellowship. He has authored over twelve articles and chapters in books on various topics, such as, Spine Surgery and Osteolysis after Total Hip Replacement. Dr. Nevins is Board Certified by the American Board of Orthopaedic Surgery and he is also a member of the American Academy of Orthopaedic Surgeons. He joined Nevada Orthopedic & Spine Center in September of 2003 after completing his Fellowship.
Dr. Nevins uses the newest techniques, such as large diameter alternative bearing femoral heads in hip replacement surgery, decreasing the need for hip precautions and allowing for a faster recovery time. In addition he uses other cutting edge techniques, such as high flexion mobile bearing total knee arthroplasties, which allow for optimal outcomes to the patient wishing more natural knee motion. Focusing on shoulder replacement surgery, Dr. Nevins is well trained in using newly FDA approved reverse total shoulder arthroplasty for the worst case shoulder replacements.
He is active in consulting on making products better. He is extremely active in the lecture circuit, lecturing throughout the country, including being on faculty at the Masters Revision Course of Hip and Knee Surgery in Chicago.
Dr. Nevins is currently the Chairman of Orthopedics at Summerlin Hospital and Medical Center. He specializes in Adult Reconstructive and Joint Replacement Surgery of both the upper and lower extremity, including both primary and revision surgeries. Dr. Nevins and his wife, Trudi, enjoy their three children.
Fusion Takedowns "Challenging Surgical Case"
His story is that he is now 18 years old.
He was in his usual state of good health until age 14 when he became spontaneously septic. He was placed on ID pressors and subsequently lost his toes from vasoconstriction. He developed AVN of the femoral head. He does not think he was on any prednisone. He was then treated with a hip fusion. During the hip fusion the surgeon decided to do a subtrochanteric osteotomy which left the patient with a deformed proximal femur. He was placed in a hip spica cast for over 5 months. He believes he was also infected in the cast, but after speaking to him it sounds as if he had wound breakdown from the cast and not a deep infection.
Modified Anterior-lateral Watson-Jones surgical approach.
Removal of Hardware (two screws)
Level and orientation of osteotomy is critical to the entire surgical case
Femoral canal preparation is begun with an opening into the femur with a starting awl, followed by a circular box chisel.
Cup orientation and preparation is challenging and care should be taken not to penetrate the medial wall. Proper cup placement is difficult do to loss of bony landmarks. Hip abductors will be weak and joint instability is a significant concern. Lateralization of the femoral component will aid in reducing forces across the hip joint potentially reducing limp and post-operative hip dislocation.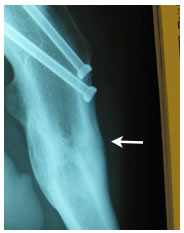 Distal canal reamers encounter a bony bridge which was anticipated so intra-operative decision confirmed pre-operative plan to shorten the stem implant length.
Apex Modular Stem was used that features a special "Dual Press" modular junction. This design allows for selection of a variety of femoral offsets and one of three version angles: Neutral or 13º of anteversion or retroversion.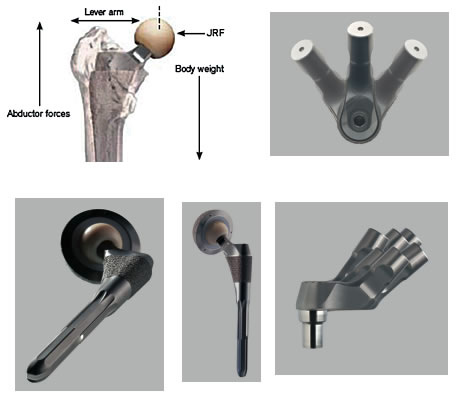 Pre-operative consideration was discussed on shorting the stem to avoid any potential femoral canal perforations. For this reason a special proximal modular stem "Dual-Press" design was utilized. Proximal conical reaming was done without the use of a pilot shaft along with rasping of the femoral triangle.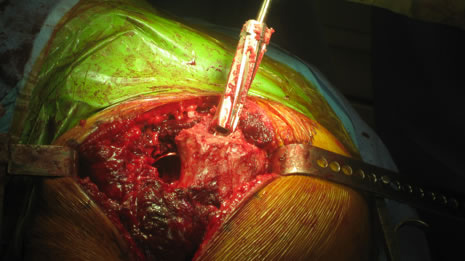 Careful intra-operative measurements were done then surgery on the stem to customize "shortening of the stem" stem length.
The Midas Rex® power system was used to cut the distal portion of the stem off.
The stem fit was excellent with impressive implant to bone stability. The proximal modular neck design allowed selection of a variety of femoral offsets and neck lengths. This along with large head M-O-M (40mm) bearings provided significant ROM and hip joint stability. The short stem functions as a pilot with implant to bone stability provided by proximal stem geometry (cone & triangle).
Modular necks allows for neutral or 13º of anteversion or retroversion. In this case the head-neck was retroverted for best joint stability position. Target Restoration was established.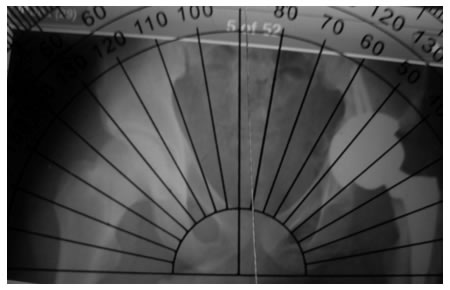 You will notice when you take out the pelvic obliquity it is 45 degrees
Before surgery he stated he had constant pain especially in his back. After his fusion takedown his back pain has been completely resolved. Patient was up on his own day 1 and discharged on day 2.
December 17, 2009
Katie Smith Gets a "Second Opinion" from Dr. Keggi

Professor Kristaps Keggi
On a recent trip from Orlando to LA I found myself running for a connecting flight through the Houston airport. One of my fellow passengers was running to catch the same connecting flight. We made it by minutes and found ourselves sitting next to each other. Conversation lead to introductions. We talked about our experiences in traveling and eventually ending up discussing our careers. My new friend, Eric, was in the auto business validating values on the resale of cars. I found it interesting to see someone doing very well in this line of business in today's economy. After a few minutes of describing my area of orthopaedics he asked if he could talk about his sister that had some very specific orthopaedic related problems.
Needless to say, it is always difficult to offer any advise except "get a second opinion". His sister was from the Hartford, CT area and it sounded like she was facing some challenging times. Over the years I have had the pleasure of getting to know and work with excellent surgeons all over the country. In that regard I have worked with Professor Kristaps Keggi and his group John Keggi and Robert Kennon. I suggested to Eric his sister might want to seek their opinion. Eric asked for my card and if he could pass on my name to his sister. This lead to a phone call and to an exchange of emails and eventually to Katie getting an appointment and seeing Dr. Kristaps Keggi.
The following is the series of emails.
Dear Mr. Timothy McTighe
Good afternoon or morning since you are on the west coast I believe. I was not sure what to write on the subject line since I have never met you personally. I have however heard all about you and your foundation from my brother in law Eric who sat next to you on a flight last evening. I hope you do not mind this e-mail. I was very interested and eager to hear about your thoughts on my condition and current medical situation.
As I am sure Eric told you, I am an above the knee, full amputee. I was born with proximal femoral focal deficiency and had my leg amputated when I was 3.  A few years ago I was diagnosed with degenerative disc disease and spondylolisthesis (L5, S1). I had been hoping to put off back surgery until I started having severe pain in my right hip. The pain radiates into my stump making it difficult to walk and perform normal daily activities. After X-rays were taken of my right hip it appears that all of the cartilage has deteriorated which has been causing my pain.  
After consulting with my spine doctor and my hip specialist they both concur that surgery for my back and a full hip replacement is necessary, starting with back fusion first. I was told by these two professionals that back surgery should come first as I need to have a strong back in order to support my body for a successful. I am scheduled for surgery on my back February 5th.
Eric had mentioned that you suggested I see a specialist at Yale. I wanted to see if you by chance had a surgeon in mind that I might be able to contact. I am unfamiliar with Yale doctors. I have had all of my previous surgeries at Newington Children's Hospital years ago.
My brother in law is often flying from city to city, state to state for his job and when he told me about you, your foundation and your conversation I thought it strange and fascinating and wanted to contact you immediately.
I would be greatly appreciative if you could recommend someone from Yale for me to speak to about my medical history to get their view(s) on my orthopedic condition. From what I have heard there have not been many 34 year old woman with PFFD to have had full hip replacements. All I want is to find the best doctor possible to help me. . My goal is simply - to walk and live as normal life as possible without pain.
I believe there must have been some active divine intervention at work last night and I thank you for taking the time to speak to Eric. He is usually quite the bore. Ha! Just kidding, he is really a great guy.
Thank you very much, for your time,
Katie Smith
Part of my subconscious motivation might have been my daughter is also named Katie. Well I am pleased to be able to say that Katie and Dr. Keggi have gotten together and sounds like Katie has the information and resources at hand to address her health care problems. I am sure the new year will be filled with optimism as Katie's moves forward.
Hello Tim.

I just wanted to thank you again for taking the time to talk to me the other evening. You were a great source of information and I truly appreciate your insight and expertise along with your optimism.
I also wanted to let you know that I was able to get an appointment for next week in Middlebury. I am looking forward to meeting Doctor Kristaps to discuss my situation and my options. I will certainly keep you posted and let you know how I made out after my appointment.

Thank you again Tim, and have a very Happy Holiday with you and your family.

Katie Smith
Tim,
I saw this nice lady. She needs a hip and may or may not need spine surgery. She certainly does not have sondylolisthesis and almost all of her pain seems hip related. Happy New Year!
Kris Keggi
January 6, 2010
Tissue Sparing Techniques in Total Hip Arthroplasty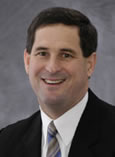 Dr. Edward James McPherson
Case Report - Intra-operative evaluation of a new approach to neck sparing THA
by Timothy McTighe, Dr. H.S. (hc)
There is a current trend towards using short stems for Total Hip Arthroplasty (THA). This is exciting because there is a distinct advantage in preserving bone and soft tissue. Minimal utilization of bone stock is vital given the fact that revision hip surgery may be required in the future.
Preclinical tests such as mechanical fatigue, finite element analysis, and photo-elastic techniques are used to design bone conserving stems. These stems can potentially increase long term outcomes compared to some of the conventional femoral stems. There is growing interest from total hip surgeons in this procedure. By preserving more soft tissue and bone in the acetabulum it is considered to be a more conservative approach to current re-surfacing designs and techniques.
Dr. Edward James McPherson is the Director of Orthopedic Surgery at the L.A. Orthopedic Institute in Los Angeles, California, and is Director of the California division and Board member of JISRF. He is board certified in orthopedic surgery and specializes in total knee replacement surgery and total hip replacement surgery using the minimally invasive technique.

Neck sparing stem design.
He has published numerous articles on his specialty interests and has authored chapters on periprosthetic total knee infection and adult reconstruction in medical textbooks. He has also co-authored book chapters on hydroxyapatite coatings in orthopaedic surgery and cemented total knee replacement. Dr. McPherson is also very active in research. He has served as either principal investigator or co-investigator in 19 studies, several of which are still in progress. Ed has shown great interest and support to the concept of Tissue Sparing Implant designs and techniques. The following is one case report on intra-operative evaluation on one technique for the use of a neck sparing THA.
| | |
| --- | --- |
| | |
| Dr. McPherson preparing for surgery. | A small posterior approach is used. |
| | |
| Femoral head - 6-8mm sub cap neck resection was carried out | |
| | |
| Acetabular floor -good exposure, no difficulty with neck being in the way. | Great care is taken as to cup version angle. |
| | |
| Acetabular reamer is put in place. | No difficulty do to retained high neck cut |
| | |
| Socket prepared. | |
| | |
| Removal of excess anterior wall reduces chances of mechanical impingement. | Removed section of anterior wall. |
| | |
| Lg 44mm, M-O-M final cup in place. | Proximal femur. |
| | |
| Starting awl. | Entrance for starter rasp. |
| | |
| Starter rasp. | Progressive rasping. |
| | |
| Size 3 rasp in place. | Trial neck placed on to rasp, 12/14 taper head. |
| | |
| Trial head in place and hip reduced. | Trial ROM - excellent function. |
| | |
| | |
Trial in place allow for fine tuning joint mechanics. Tissue sparing of both hard and soft tissue can easily be converted to a conventual THA if necessary.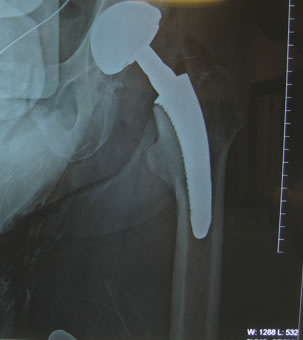 The neck sparing trial / rasp was then removed. Final Implant was a MicroplastyTM stem clearly demonstrating conversion to a current short conventional cementless stem.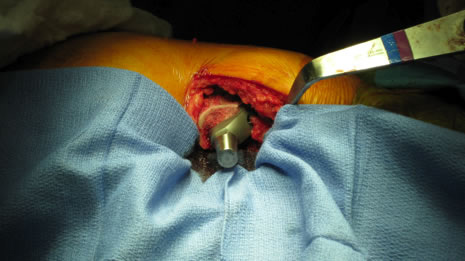 Final Comment
We are excited about this new approach to THA and believe it will be a viable alternative to hip resurfacing and conventional THA. We look forward to its being available for use in the United States.
Ed McPherson, M.D. and Timothy McTighe, Dr. H.S. (hc)