JISRF Activities May 2010
May 31, 2010
Metal on Metal (MoM) Bearings in THA - Surgeon Interviews
There has been considerable debate and controversy over the past few years with regards to MoM bearings. The current issue at hand: Do MoM bearings have a higher incidence of post-operative pain and tissue damage compared to conventional bearings of MoP, CoP or CoC?
In both the U.S. and Australia the recent notice from the British Orthopaedic Association (BOA) has added concern to the selection and use of MoM in THA.
Timothy McTighe of JISRF has conducted an interview with the surgeons listed below on their historical use, current practice and future concerns with the use of all bearing material with special emphasis on MoM bearings.
The 13 Questions of the Interview
Timothy McTighe, Dr. H.S. (hc)


Executive Director JISRF
Affiliate Member AAHKS
Affiliate Member AOA
Member ORS
Member Society Biomaterials
Shands Circle Member OREF & National Board Member

Dr. Bradley Walter


Orthopaedic Surgeon private practice
Thomasville GA, USA
Member AAOS
JISRF TSITM Study Group Member

Dr. Keith Berend


Joint Implant Surgeons, Inc.
New Albany, OH
Member AAOS
Member AAHKS
Board Member JISRF
 

Prof. Warwick Bruce


Current President of the Australian Arthroplasty Society
M.B., B.S.(Syd), F.I.C.S., F.R.A.C.S., F.A. Ortho A. _Orthopaedic Hip & Knee Surgeon, Sydney Australia
Clinical/Surgical Research Advisory to JISRF

Dr. Terry A. Clyburn, P.A.


Associate Professor
Joint Replacement Associate, Houston TX, USA
Member AAOS
Member AAHKS
Special Ongoing Research
Clinical Studies in Evaluation of Total Knee and Hip Replacement, with specific interest in minimal incision techniques and metal on metal articulations.
 

Dr. Thomas K. Donaldson


Founder and Director Donaldson Arthritis Research Foundation
Colton, CA. U.S.A.
Director, Joint Replacement Surgery at VA Medical Center, Loma Linda, California.
Member AAOS
Member AAHKS
Board Member JISRF

Dr. John M. Keggi


Middlebury, CT. U.S.A.
Member of the AAOS
Member AAHKS
Clinical/Surgical Research Advisory to JISRF
 

Dr. Louis Keppler


Co-Director, The Spine and Orthopaedic Institute at St. Vincent Charity Medical Center, Cleveland, Ohio, U.S.A.
Member AAOS
Member AAHKS
Clinical/Surgical Advisory to JISRF

Dr. Edward J. McPherson


Director of Orthopedic Surgery
L.A. Orthopedic Institute
Los Angeles, California
Member AAOS
Board Member JISRF

 

Dr. Thomas Tkach


McBride Clinic, OKC, OK, U.S.A.
Member AAOS
Member AAHKS
Clinical/Surgical Advisory to JISRF

Dr. Allen Turnbull


Orthopaedic + Joint Replacement Centre, Sydney Australia
Member of the Australian Orthopaedic Association
Member of the Australian Arthroplasty Society
Affiliate member of the American Association of Hip and Knee Surgeons (AAHKS)
Clinical/Surgical Research Advisory to JISRF
 

Dr. Bradley Vaughn


Raleigh Orthopaedic Clinic
Member AAOS
Member AAHKS
Member AOA
Clinical/Surgical Research Advisory to JISRF
Answers
1. How long have you been implanting MoM bearings?
Berend
1996 in our practice and database.
Bruce
10 years.
Clyburn
I started in 1996 with the Encore metal poly sandwich and moved to the Biomet 38 MoM in 1998.
Donaldson
Since 2002.
Keggi
10 years.
Keppler
5 years.
McPherson
My first MOM bearing inserted was 11.16.95. Once the FDA approved LDMM bearings, i began the routine use of LDMM bearings for primary THA in November of 1995.
Tkach
10 years.
Turnbull
10 years.
Vaughn
10 years.
Walter
I have been using MoM bearings in selected patients for 10 years. in private practice and 3 years. of residency. My initial experience was with Intermedics Metasul. This was fine initially, but later the Metasul oil film problem caused some major problems. These problem were never a bearing surface issue.
2. Do you use MoM for both THA and HR?
Berend
Yes.
Bruce
Yes.
Clyburn
I use MoM almost exclusively for my totals and I do an occasional HR with the Birmingham.
Donaldson
Yes.
Keggi
Primarily for HRA. We occasionally use MOM as a Big Femoral Head THA in selected patients.
Keppler
THA only.
McPherson
I strongly advocate the use of THA over TAR for young active patients. Thus, for all primary THA's where I can insert a LDMM cup (sometimes I need to use screws to secure the cup), my bearing choice is metal-metal.
Tkach
I have only done 3 HR and do about 25% of my THA are MoM bearings.
Turnbull
For HR yes, for THA no longer.
Vaughn
Just THA, I did some HR back in the 1980's and had disappointing results and have not been convinced that there is an indication for them in my practice.
Walter
I am currently not doing HR so I have no experience there.
3. How many THA using Mom have you done and over what period of time?
Berend
>2000 (1996-2009) We recently presented out minimum 2-year data on 1542 MoM implants at AAOS.
Bruce
262 MoM for THA and 56 for HR over the past ten years.
Clyburn
I have done just under 1000 MoM hips over the past 13 years.
Donaldson
900 over 8 years.
Keggi
We implanted a handful of Sulzer MOM THAs 10 years ago before COC became widely available. In the last 4 years, perhaps 30 MOM THAs in our practice versus many 100's of COC THAs in younger patients.
Keppler
About 200.
McPherson
My first MOM bearing was inserted 11.16.95. Once the FDA approved LDMM bearings, I began the routine use of LDMM bearings in November 2000. To date I have inserted approximately 514 MOM bearing constructs.
Tkach
700 over the past 10 years.
Turnbull
Over 10 years around 200.
Vaughn
68 Duron and about 100 between DePuy and Biomet designs. I stopped doing them about 2 1/2 years ago.
Walter
I have done 160 Biomet MoM since 2003, 5 Depuy MoM, and 10 Metasul MoM from 2000-2002 (DePuy and Metasul are Estimates.)
4. Have you had any revisions as a result of pain, aseptic loosening or any related issue with the bearing surface?
Berend
2.5% Aseptic Loosening, 1% metalosis/hypersensitivity, overall 4.7% failure. Mayo clinic evaluated pain after MoM-HR and found almost twice as many patients with continued groin pain after HR. We noted NO patients as pain free 1 year after HR in our initial 73 cases.
Bruce
The initial MoM were SRom with a 28 mm head. No failures I saw one patient 3 months ago no pain but significant osteolysis in GT, so I am watching him carefully. One BHR I put the cup in to much anteversion and he was getting pain in extension and had an occasional clunk so I revised him. One AVN stem of BHR stem changed position and stopped the pain so I am watching him. No problems with THA Anthology MoM.
Clyburn
I have a patient who was in his mid thirties at the time of the index procedure in 1997 with a metal on metal poly sandwich who has radiolucency, but no revision. I have a patient who had a 38mm MoM in about 2005 who developed a large cyst which extended up into the psoas. She saw an out of state physician who ordered an aspiration arthrogram suspecting infection, but the fluid came back perfectly clear. This was in 1997. The radiologist called me and asked if he could inject a steroid. I gave him the go ahead. The cyst resolved, the repeat MRI showed resolution and the patient continues to do well.
Donaldson
One revision for early acetabular loosening, not ingrown. One for snapping iliopsoas tendon, one revised for persistent pain, bearing pristine, presumed low back pain, patient still has pain.
Keggi
No.
Keppler
Yes two for pain and three for fixation. The two for pain were revised by exchanging MoM to Metal on poly and the pain resolved. The three cups that were revised for loosening were replaced with new cups with poly inserts. All three were made considerably easier by the advantage of proximal modularity on the stem. The proximal body was removed giving access to the socket and then replaced with a new proximal neck and head.
McPherson
I have two main LDMM series that I am following. One is the Biomet 38MOM series. This cup had a generous rim flare. The series was from 10.08.01 through 11.02.04 N=172. To date I have had 5 cup failures, all for aseptic loosening. I attribute these failures to rim hang up. I have not seen a failure that i would say resembles the PITR (Particulate Induced T-cell Response). My other series is the Biomet Magnum series. The series started 11.09.04 and continues to remain open. Total number in this group to date is 223. To date I have 2 cup failures. Both were for early aseptic loosening (surgical technique). Again, I have been looking hard, I do not see any patient that I believe falls into the category of PITR.
Tkach
One infected case and I have revised 2 for pain that were referred to me.
Turnbull
One for pain from synovitis.
Vaughn
I have replaced 19 of the 68 Duron cup due to aseptic loosening one pinnacle for joint instability and have had no pseudo-tumors or pain related problems.
Walter
I have had no revisions related to the bearing surface. I did have to revise approx. 5 of the Metasul hips do to a failure of the ingrowth. The oil residue manufacturing error/problem.
5. Do you have any concerns over the recent BOA MoM warning letter?
Berend
Yes, we have noted an increase in mid-term problems associated with MoM. Namely, unexplained pain, pseudotumor, and metallosis.
Bruce
Yes the BOA letter was not very clear and is too broad in my opinion.
Clyburn
I certainly have been vigilant in observing my patients and I have always insisted on yearly follow-up. I have seen only two patients out of nearly 1000 who showed any signs that they may have had a reaction to the metal ions. This is certainly a marked improvement over issues I have had with poly over the years having lived though the DePuy 500 and 1200 series cups. In addition, I have almost eliminated dislocation from my practice since using large MoM, thus reducing my work load significantly and reducing patient morbidity. My greatest concern with the BOA's reaction is that it may negatively impact our ability to perform a procedure which has proven to be safe, effective and significantly better than previously available total hips.
Donaldson
No, It is part of my full disclosure regarding metal on metal bearings.
Keggi
The information they present is well-known among orthopaedic surgeons who use MOM and it is primarily indicative of the UK experience with the ASR which has been withdrawn from the market. It also reflects the results of the Oxford study on psuedotumors which confirms that poorly-placed implants perform poorly. In the case of a poorly-implanted MOM bearing, excess wear can be associated with psuedotumor development associated with edge-loading. Each bearing couple has unique complications related to mal-position: COC edge-loading can lead to squeaking and fracture; MOP mal-position can cause runaway wear and massive osteolysis. The Warning cites a 1 to 9 of 1000 risk of pain. This is no greater than any bearing couple and is not a unique risk of MOM. The Warning also fails to account for differences in metallurgy and geometry between brands which may also be a factor. The ANJRR shows very different results related to brand. Overall, the British warning does not clarify the matter for clinicians and may be alarmist to the public. Many centers worldwide are investigating the pros/cons of MOM and continue to report on the matter regularly in peer-reviewed formats. These investigations will be more helpful to patients and surgeons.
Keppler
Yes.
McPherson
Yes. The letter has a tone that suggests that MOM bearings are more harmful than beneficial. Our memory tends to be short regarding UHMWPE. The osteolytic lesions that I remember revising were absolutely disastrous to the patient. Furthermore, recurrent chronic dislocation was a significant issue as well. I would hate to return back to that era. Judgment of LDMM should be, in my opinion, reserved until longer follow up data is established.
Tkach
No, However I do believe the BOA letter will raise concerns and present some increased risk with regard to medical/legal exposure. This can and probably will be used by some plaintiff's attorney as an argument on failure to warn.
Turnbull
I have concerns for a while because of what is in the literature and what I have heard at meetings and after the patient I had to revise.
Vaughn
Yes, I believe the BOA letter is to broad in its nature and raises suspect to all MoM and does not provide much direction as to the problem.
Walter
I do have concerns. I still believe in the MoM bearing surface, but if a problem arises there will be a plethora of lawyers standing in line.
6. What is your current indication for MoM bearings?
Berend
Only HR.
Bruce
I do MoM for men less than 65 for THA and BHR in less than 60. The HR must have good anatomy head size greater than 50mm and the hip cannot be stiff. If the patient has any of these I do a MoM THA. Rarely use metal in women as head sizes are too small for BHR and I think big heads irritate the ileopsoas in women mostly use C on C.  No M on M in women of child bearing age and no BHR if over 55 very selective. No loosenings no infections.
Clyburn
I use MoM on the majority of hips. I use ceramic on ceramic in young women. I use a large head on X linked poly in patient over 70.
Donaldson
Pretty much all patients. None for child bearing years, females wearing no jewelry, and acetabular dysplasia.
Keggi
HRA and certain younger patients who anticipate high impact loads with a THA (despite medical advice to the contrary). Other candidates are those who may have a potential stability problem or who perceive COC fracture as a bigger concern for themselves than MOM issues.
Keppler
Do not currently use MoM.
McPherson
At this point, I continue with routine use of LDMM (resurfacing style) bearings. Of course I would not use in renal failure. I would also be cautious in females of childbearing age. Also, the criteria for successful bone ingrowth still apply.
Tkach
Young active males about 25% of my practice.
Turnbull
HR only.
Vaughn
I do not currently have any indication for MoM bearings.
Walter
My current indication for MoM is the young, active, heavy, male. My indications get tighter with increase of perceived liability, and the availability of other bearings like E-Poly.
7. Do you inform your patients as to the recent concern over MoM bearings and if you do what is your procedure?
Berend
I now council the patients against MoM.
Bruce
I discuss all potential advantages and disadvantages with all bearing materials.
Clyburn
I inform patients that metal ions are released from metal, That metal is implanted into our bodies for total joints, rods, plates and knees and that the metal ions are cleared by the kidneys. I tell them that there is no evidence of malignancy in over 60 years of MoM hips. I tell them that there are very rare reports of a significant reaction to the ions, but that in over 13 years I have not personally seen these reported problems occur.
Donaldson
I show the patients poly, ceramic and metal. I let them see the head size. I disclose the .5 percent metal alval/pseudotumor/revision rate as a possibility for a hip that sustains an awful lot, lets you not wearing about dislocating your hip and may just last a long time.
Keggi
We have always discussed the concerns of all bearing couples with patients as a matter of course to highlight the fact that every bearing has its problems and its benefits. We have printed, patient-friendly material in the form of (our partner) Dr. Kennon's book: Hip And Knee Surgery: A Patient's Guide To Hip Replacement, Hip Resurfacing, Knee Replacement, And Knee Arthroscopy (at Amazon.com) and detailed information on our website.
Keppler
I would not discuss with asymptomic patients.
McPherson
I talk to all patients that are considering THA about bearing options. I show patients parts and let them hold them. I review with them the pros and cons of each bearing construct. Interesting, most move forward with a LDMM bearing as they value stability and function.
Tkach
Yes, I inform them to all the potential problems with all bearing material but will probably increase my own discussions to possibly having additional documentation added to the patients chart.
Turnbull
Definitely.
Vaughn
Yes, I discuss their letter and all related issues on all bearing material with my patients.
Walter
I have a very franks discussion about the potential problems.
8. If not, does recent events make you think you should discuss the concerns of these professional societies?
Berend
I do not believe that the BOA has a significant input into my practice at this point, but I agree with their concerns.
Bruce
 
Clyburn
I am currently rethinking disclosure on warnings with regard to MoM with my patients.
Donaldson
I believe there may be just as big a problem looming with the thin liner polys.
Keggi
We currently discuss them.
Keppler
 
McPherson
Yes. I have an open and frank discussion with the patient. Some want a lot of information, others just want the highlights.
Tkach
Yes we need to be proactive anticipating the medical/legal climate that we are in.
Turnbull
 
Vaughn
This should be part of the general discussions with all patients as to the potential limits of material properties and should be well documented in the patients chart.
Walter
N/A based on 7.
9. What is your current selection process for any of the bearings that you use?
Berend
Modularity and ease of revision are a key factor, along with bearing/head size. I therefore routinely use E1 highly cross-linked poly in all cases with either Delta ceramic or CoCr femoral heads.
Bruce
Answered in question 6.
Clyburn
Answered in #6
Donaldson
Pretty much metal on metal for most hips, any damaged acetabulum where press fit can't be obtained is a poly cup. I use poly for most revisions.
Keggi
The patient's history, activities, expectations and concerns are explored. Patients under age 65 generally choose to receive a hard-on-hard bearing, either a MOM HRA or a COC THA. Patients over age 65 generally receive an Oxinium-Poly bearing if they are on the younger end of the spectrum and are very active. Otherwise a MOP bearing is used.
Keppler
Ceramic on poly.
McPherson
My first bearing construct of choice is LDMM. If I need screws, my fall back is HCLE - VitE of 36 or 40mm diameter. Of course, if a patient has a specific request for a particular bearing construct an he is well informed, I am okay with the special request.
Tkach
I do not do HR so all hips are THA. 25% MoM I am currently using The Magnum from Biomet and have not had any problems and do not anticipate altering that selection. CoP for younger females along with some CoC. Older patients MoP.
Turnbull
HR MOM really the only option at present; metal on X linked poly for most of the others sometimes in younger I will use ceramic on Xlinked poly or COC.
Vaughn
I use MoP or CoP for all my patients. More CoP with females.
Walter
Physiologically 70 or greater ArcomXL, <70 E-poly (<55-60 Ceramic on E-poly), MoM for a select few as noted above.
10. If you stop using MoM for THA will you continue to do HR?
Berend
Yes, although only in men. We noted a significantly higher MoM revision rate in women compared with men for all aseptic causes, including psuedotumor, pain, failure of ingrowth.
Bruce
I do not intend to change my current guidelines for indication.
Clyburn
I am actually more concerned about HR as it is my impression that this is where the majority of ALVAR has been seen. I would stop doing HR before I stopped doing MoM.
Donaldson
Yes probably the best choice long term for a young patient. It may narrow the scope of who gets them however.
Keggi
The patient's history, activities, expectations and concerns are explored. Patients under age 65 generally choose to receive a hard-on-hard bearing, either a MOM HRA or a COC THA. Patients over age 65 generally receive an Oxinium-Poly bearing if they are on the younger end of the spectrum and are very active. Otherwise a MOP bearing is used.
Keppler
Do not do HR.
McPherson
I do not perform HR. Rather, I use a LDMM resurfacing cup with THA. If I was told to stop MOM by a government entity, I would use HCLPE Vit E as my go to bearing construct.
Tkach
Do not do HR.
Turnbull
Very selectively and only after discussion with the patient of my concerns and I make sure I get the cup position right.
Vaughn
No.
Walter
N/A (I am not currently doing HR)
11. What is you percentage of use for HR?
Berend
1%.
Bruce
Under 25%.
Clyburn
2-3%
Donaldson
5%.
Keggi
Yes, until other reliable HRA bearings become available. The current bearing has a very good track record in the right application.
Keppler
0%.
McPherson
I do not perform HR.
Tkach
Do not do.
Turnbull
About 10%.
Vaughn
0%.
Walter
0%.
12. What if any advise do you have for your colleagues with regard to disclosure on bearing selection to their patients?
Berend
I think early and aggressive work up of pain is warranted.
Bruce
M on M fail because bad metal i.e. low carbides of ASR, too little clearance which is made even worse when you put them in ASR, poor actual inclination angle i.e. ASR if put in at 45 actual inclination is 67. And surgeon error they have to be put in at 35 40 and combined anteversion cannot be too much.
Clyburn
I tell patients that polyethylene has been used for many years and is a good choice for low activity, older patients, but that over the years polyethylene failure has been the cause of many failed total hips. I say that the cross linked poly is likely a marked improvement, but that the wear is still significantly greater than CoC or MoM. I tell them I use all three options but the majority I use MoM. I tell them that CoC actually has the lowest wear rate, but that there is a slight risk of fracture and some risk of squeaking. I tell them that larger CoC heads are now available, but generally with MoM I can place a ball which is closer to their natural head size. As I said, I do inform them of potential risks of metal ions. Most "choose" MoM.
Donaldson
Be as open as possible, take the approach of sharing information as you get it with your patients. Good chance to remind them to return yearly for checkups and update on any new findings. I recommend at least biannual ultrasound check ups however for the 5/1000 that should have a problem, it may not be cost effective. I emphasize the symptoms of swelling and pain as tip offs of a problem as well.
Keggi
Every bearing couple has its weakness and is best to discuss the matter early to the extent that the patient is interested and that will possibly impact upon their care.
Keppler
Discuss bearing options with patients and describe my present opinion.
McPherson
I feel that every patient should be apprised of the pros and cons of each bearing construct. Once they understand the issues, patients feel more at ease in allowing the surgeon to guide them in choosing the appropriate bearing for their particular need.
Tkach
All surgeons should be familiar with all types of bearing material and be prepared to discuss the advantages and risk associate with the selection of any bearing material.
Turnbull
They must disclose.
Vaughn
Discuss it all and documented what you have discussed.
Walter
I think the disclosure should probably be part of the standard consent in some generic form. It may be necessary to have a separate and distinct disclosure form.
13. Will any of the recent warnings posted by the BOA result in your altering your selection process of bearings?
Berend
No, I had already begun steering away from MoM.
Bruce
No.
Clyburn
I will keep offering the above mentioned options and warnings, but I have not intention of changing what has been a remarkably successful construct. In fact, my success with my MoM hips has resulted in a wonderful growth of my practice based on high patient satisfaction and referral.
Donaldson
Not based on my own patient group and success in the relative short term.
Keggi
No. We have been very pro-active in discussing bearing choices all along, as have most surgeons who perform arthroplasties on a regular basis. We will look forward to advances in the science of orthopaedics to clarify the matter with respect to anatomy, biology, risk factors and patient selection criteria that may be important.
Keppler
No, I stopped using prior to the BOA letter after my own experience.
McPherson
At the present time, no.
Tkach
No, but will probably make me re-exam what and how I am disclosing information and documenting it with my patients.
Turnbull
Not really. I have been very cautious even before the letter.
Vaughn
No since I had already modified my product selection prior to their warning.
Walter
I have already altered my usage. My usage of e-poly and ceramic heads is way up and my MoM usage is way down.
  May 20, 2010
Metal on Metal Bearings in THA - Historical Review
MoM Comments

Metal on Metal Bearings in THA have been around since the 1930's when Phillip Wiles designed and inserted the first MoM THA.
Other historical pioneers followed McKee, Peter Ring, Sivash and they all had different stems and cup designs.

We have seen examples of these devices working well for a number of years and we have seen examples of these devices going on to revision surgery due to a number of different problems. Certainly under today's standards they were all under-designed from an implant to bone stability point of view. However, the articulation often after years of implantation showed little damage upon retrieval.
There is no question that the current concern over MoM bearings has multiple factors that can determine the survivorship of the implanted device. Biological concerns: cellular toxicity, cancer risk, teratogenicity (metal ions cross placenta), metal sensitivity, corrosion, osteonecrosis and fracture.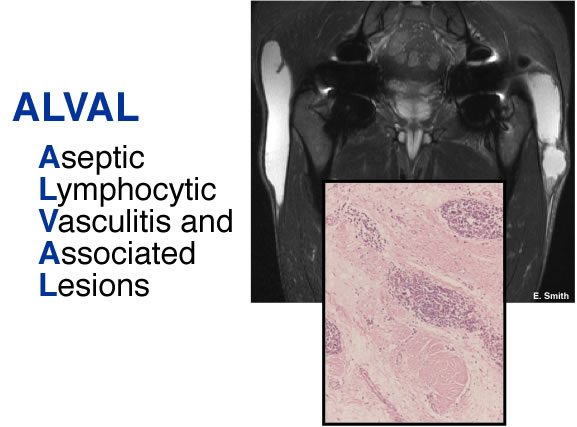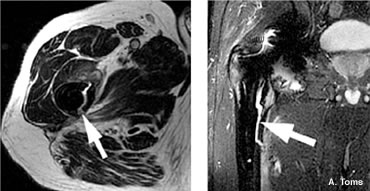 MoM Bone Necrosis
Long term effects from metal ion exposure requires close monitoring.
JISRF encourages caution in not overreacting to the current situation. It behooves surgeons that have used or anticipate using MoM to be informed and to make sure they are warning their patients to the appropriate risk involved with THA. In fact, this is a good time to suggest that all surgeons review their current patient consent forms and, if needed, be updated. Use this time to learn not only the latest about MoM bearings, but also that all bearings bring about specific advantages and concerns.
Basic Problems
It has been almost three decades since Willert first describe the problem of polyethylene wear leading to peri-prosthetic inflammation, granuloma, bone resporption and implant loosening.3 Since then many publications have discussed this subject.4,5,6,7 Issues have been raised with current materials (MoM, CoC, MoP) from squeaking, high trace elements, strength and implant stability.8,9,10,11,12,13,14
The following are examples of polyethylene failed devices and induced osteolysis:
| | | |
| --- | --- | --- |
| Ploy II (carbon reinforced poly) | Heat Pressed Poly | Hylamer Poly |
| | | |
| | |
| --- | --- |
| UHMWPE | XLPE |
| | |
Substantial wear reductions have been made with crosslinking technology when compared to traditional poly. However, crosslinking compromised the material's properties and created a new set of problems in dealing with strength issues.
Over all, volume of wear generation is less with XLPE poly. However, there is growing concern on the behavior of the smaller and potentially more reactive particles generated with crosslinking of polyethylene.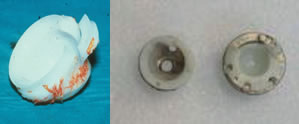 Polyethylene insert rim failures.
| | |
| --- | --- |
| | Currier BH, Currier JH, Mayor MB, Lyford KA, Collier JP, Van Citters DW,: Evaluation of Oxidation and Fatigue Damage of Retrieved Crossfire Polyethylene Acetabular Cups. Journal of Bone and Joint Surgery. 89: 2023-2029, 2007 |
| | Tower SS, Currier JH, Currier BH, Lyford KA, Van Citters DW, Mayor MB: Rim Cracking of the Cross-linked LongevityTM Polyethylene Acetabular Liner After Total Hip Arthroplasty. Journal of Bone and Joint Surgery. 89: 2212-2217, 2007. |
Ceramic head and metal shell failure. Complete wear-through poly 28mm insert.15


Polyethylene induced osteolysis.



Ceramic on Ceramic
CoC is recognized for low wear and no metal ion release. However, fatigue issue can be a problem resulting in component fracture, intraoperative chipping, and now reported articulation noise in the form of squeaking.
Fractures occur for a reason:
Patient related - excessive demand, trauma, dislocations, etc.
Surgical technique such as poorly positioned components
Design related
Articulation noise (squeaking) can be multi-factorial:
Implant position (impingement, edge loading, subluxation)
Many factors can contribute to squeaking
It is a hard on hard articulation issue
Components design, material and quality are part of the issue
Emerging reports indicate that it is transient
Improvements have been made.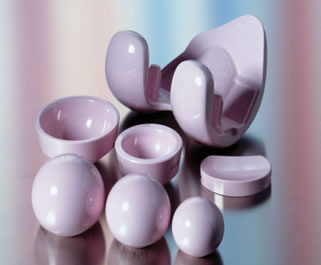 Summary
Total Hip Arthroplasty is only as good as its bearing surfaces. It's of little value to have the perfect stem and cup component if the bearing surfaces do not hold up for at least the life of the stem and cup. We have seen many advances in all areas of THA with the bearing surface but there is still the need for improvements given today's active life style. Until newer materials are developed - silicone nitride, diamond on diamond, ceramic on metal, polycarbonate urethane (PCU) or something entirely new and different - caution should be used when discussing patient related activities.
Patients tend to do what they want, and then some. Encouraging your patient not to have some restraint in their daily activity can send the message that the new reconstruction is better than the original. Failure to warn your patient as to reasonable risks associated with there surgery and related physical activity can, and will, place the surgeon in harms way legally.
We are not far from having improved hard on hard bearings like Silicone Nitride available for our younger more active patients.

This is a strong material that resists deformation. It is 20 times stronger than PEEK and has a hardness approaching that of diamond. This can be formed into a highly polished bearing surface.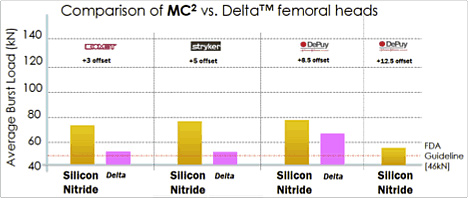 This material is in development for bearing surfaces:
Highly polished, low wear surfaces
Provides low wear advantages of ceramic with the strength of cobalt chrome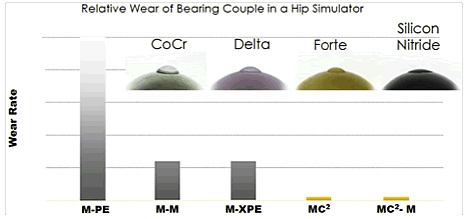 New technologies can provide the low wear advantages of ceramic, the strength of cobalt chrome, and the bony in-growth of trabecular metal. However, until these materials have been fully tested, let's use caution with what we have to work with; understand their material properties (limits) and required technique and full appreciation of the potential risks and hazards in their selection. Patients have selective memory and when things start to go wrong they don't remember the cautions that were told to them. Document clearly so "failure to warn" is not an argument they can use against you.
Ian Clarke, PhD


Board Member JISRF
Affiliate Member AAHKS
Member of Society of Biomaterials
Member of ORS
Considered a global expert of tribology
Clarke - MOM
One would be led to believe by the popular press and the BOA announcement that the sky may be falling on MOM bearings. It is there fore very interesting that this group of eleven surgeons have used MOM bearings for 10 to 15 years and amassed over 5,500 cases between them. Even so, the few problem cases can be enumerated on the fingers of two hands. Eleven of this group continue to use MOM and two have abandoned it. The incidence of adverse biological reactions is believed to be in the 0.5% to 1% (Donaldson; Berends). However as pointed out in this article, our community is well aware of this risk and certainly use of alternative cups such as UHMWPE and ceramic clearly introduces other risks.
The true dilemma of MOM bearings is that we are unsure of which patients are at risk and also uncertain of what conditions may trigger the adverse biological reactions reported in Europe and the USA. High CoCr wear rates appear to be one likely cause. The implicated source has mainly been cup positioning although there is a long list of alternative parameters. It is for that reason that our DARF Center in California has been analyzing both linear and volumetric wear rates in retrieved MetasulTM (28mm) and large ball diameters (LBD) cases (38-60mm). We need to know what a 'normal' MOM wear rate is, i.e. the clinically acceptable level, and what wear level brings on the reported short-term failures. For example, we know virtually nothing about volumetric wear magnitudes in a 28mm hip versus a 58mm MOM. Similarly in the tribology laboratories, we have been reporting for at least 12 years that MOM hips can turn the lubricant black in somewhat random fashion during the typical 5-million cycle test. We know virtually nothing about how the proteins perform as lubricants in such MOM wear tests. Last month we presented the first analysis of protein-lubricated MOM tests at the annual meeting of the Society for Tribology and Lubrication Engineering in Las Vegas. As Dr. Keggi stated, many centers are now studying this phenomenon and we will know a lot more very soon. The real danger to MOM bearings is that the insurance companies and plaintiff's attorneys will render their use inappropriate and that would be unfortunate.
Clarke - Ceramics
Silicone nitride (Si3N4) implants are synthesized with 6 wt% yttrium oxide and 4% alumina ceramic. SiN is 3x harder than CoCr and alumina is bout 3.6x harder than CoCr. In terms of strength, the alternate ceramics SiN and ZrO2 average 3.1 times stronger than alumina. These are stronger than even the alumina-matric composite ceramics (Biolox delta TM).
We ran three balls and cups of silicone nitride versus three CoCr balls running in silicone nitride cups. These 1 million cycle tests averaged wear rates of the order 0.18 to 0.2 mm3/Mc, which was in a satisfactorily low wear range typical of ceramics.
References:
Bobyn, J. D., Collier, J. P., Mayor, M. B., McTighe, T., Tanzer, M., and Vaughn, B. K.: Particulate Debris In TOTAL HIP ARTHROPLASTY: "PROBLEMS AND SOLUTIONS" 1993 AAOS Scientific Exhibit
Treharne, R., and McTighe, T., A NOVEL APPROACH TO REDUCTION OF WEAR IN THA. 2008 ISTA Poster Exhibit
Willerrt, H.G., and Semlitsch, M.: REACTIONS OF THE ARTICULAR CAPSULE TO WEAR PRODUCTS OF ARTIFICAL JOINT PROSTHESES. J. Biomed. Meter. Res. 11:157, 1977
Howie, D. W.,:TISSUE RESPONSEINRELATIONTOTYPEOF WEAR PARTICLES AROUND FAILED HIP ARTHROPLASTIES. J. Arthrop. 5:337, 1991
Schmalzried, T.P., Jasty, M., Harris, W.H.: PERIPROSTHETIC BONE LOSS IN THA, POLYETHYLENE WEAR DEBRISAND THE CONCEPTOF THE EFFECTIVE JOINT SPACE. J. Bone Joint Surg. 74A:849, 1992
McTighe, T., Ko, Y., Bennett, R. B., and Adams, J.: A NEW APPROACH TO BEARING SURFACES FOR TOTAL HIP ARTHROPLASTY. 1994 AAOS Poster Exhibit
McTighe, T., Trick, L., and Koeneman, J.B.,: DESIGN CONSIDERATIONS FOR CEMENTLESS TOTAL HIP ARTHROPLASTY. Encyclopedic Handbook of Biomaterials & Bioengineering Part B Vol 1 1995 Markel Dekker
Dorr, L., : IMPLANT PERFORMANCE OBSERVATIONS. Letter to AAHKS Members April 22, 2008
Lhotka, et al., JOR 2003
Landon, D., Doherty, A., Newson, R.,Turner, J., Bhamra, M.: CELLULAR TOXICITY. J. Arthroplasty 2004; 19:78-83
Visuri, T., Pukkala, E., Paavolainen, P., Pulkkinen, P., Riska E.B.:CANCER RISK. Clin Orthop and Related Res 1996; 329 Suppl: 280-289
Ziaee, H., Daniel, J., Datta, A. K., Blunt, S., McMinn, D. J. W.: TERATOGENCITY> JBJS 2007; 89:301-305
Jones, D. A., Lucas, K., O'Driscoll, M., Price, C.H.G., and Bristol, B.W.:COBALT TOXICITY AFTER MCKEE HIP ARTHROPLASTY. JBJS 1975; 57: 289-296
Carbone, A., Howie, D.W. et al.: aging performance of a compliant layer bearing acetabular prosthesis in an ovine hip arthroplasty model. The Journal of Arthroplasty Vol, 21 No. 6, 2006
Tsaroughas, A., Iosifidis, M., et al.: PROTRUSION OF THE CERAMIC HEAD THROUGH THE ACETABULAR SHELL IN TOTAL HIP REPLACEMENT. ORTHOPEDICS 2008; 31:812
You will need the Adobe Reader to view and print these documents.