JISRF Activities January 2011
This publication is highlighting
AAOS 2011 Poster Exhibits
January 26, 2011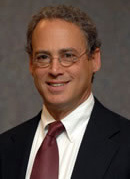 Daniel C. Snyder, MD
Daniel C. Snyder, MD - The Newest Tissue Sparing Implant Study Group Member
Board Certified in Orthopedic Surgery
Specializing in Sports Medicine and Joint Replacement
Dr. Daniel Snyder is a graduate of Tufts University School of Medicine. He completed his orthopedic training and a pediatric orthopedic fellowship at Tufts Medical Center. He is a member of the American Association of Hip and Knee Surgeons (AAHKS), the American Orthopedic Society of Sports Medicine (AAOSM) and the Arthroscopic Association of North America (AANA). Dr. Snyder is an Assistant Clinical Professor at Tufts Medical School and serves as Assistant Director of the Jim and Ellen Kaplan Joint Center at Newton-Wellesley Hospital.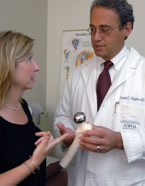 Dr. Snyder trains other orthopedic surgeons in the technique of hip resurfacing and anterior hip surgery and he is a leader in the field of hip and knee joint preservation.
Dr. Snyder is Board Certified in Orthopedic Surgery, specializing in hip and knee joint replacement and resurfacing.

I had the opportunity to meet Dr. Snyder at the December CCJR meeting in Orlando, Fl. He has an interest in tissue sparing techniques for Total Hip Arthroplasty and was lecturing at a mini-workshop on the Corin Mini-Hip stem.
He has been interested in Hip Resurfacing and has been looking for a technique that has broader indications than the current HR designs.
So on a recent trip to snowy Boston I found some time to visit and observe Dr. Snyder performing a couple of short stems utilizing the anterior approach ABGTM and Corin MiniHipTM.
The MiniHipTM Stem from Corin has followed a similar path as that of the CFPTM Pipino Stem and the ARCTM and MSATM Tissue Sparing Implants. All are curved neck stabilized stems.
All four of these designs rely on neck stabilization not like typical short stems than rely on metaphyseal stabilization.
The medial curve of the calcar is the key to neck stabilized stem designs.
Limitation in sizing


Stem sizes 1-10
Sizes 1,2 & 3 not available in the U.S. (problem for small profile patients)

Monoblock stem with neutral neck




Limits fine tuning of joint mechanics

Head diameter 28mm & 32mm




(Does not provide for large head technology which can be a problem with mechanical impingement issues)

Head diameter 28mm & 32mm




(Does not provide for large head technology which can be a problem with mechanical impingement issues)

Broach technique




(Since one medial curve is being prepared shaping of the patients medial curve could be required to better fit the stem. This is safely done by rasping the medial curve compared to broaching)
Dr. Snyder has been performing the Corin MiniHipTM since FDA approval this past September.
He has been an advocate for Hip Resurfacing in the younger male however, is beginning to see advantages in neck sparing total hip arthroplasty.
There are however some limitations to the current MiniHipTM design.
| | |
| --- | --- |
| | |
| Broach - cuts in one direction and generate increased hoop tension during broach and or stem insertion. | Rasp - cuts in both directions shaping the bone. Enough relief channels reducing hoop tension (less risk of femoral fracture. |
| | |
| | |
| | |
| | |
| | |
| | |
| | |
| | |
| | |
| | |
| | |
| | |
| | |
| | |
| | |
Anterior single incision approach.
Anterior Approach
Dr. Synder's technique is very similar to that of Professor Kristaps Keggi. at times he uses the Omni-Track table bone hook although the two cases I observed they were not needed.
His first case was a small profile female so he used a ABGTM modular neck stem from Stryker. This stem can accommodate smaller patients compared to the MiniHipTM from Corin due to the limitations of current sizing in the U.S.
The ABG stem has a modular neck which provides for fine-tuning joint mechanics. However it does require a standard neck resection and slightly more lateral effort into the trochanteric bed.
This is also a broach technique although this broach has a few more vertical reliefs cut into its bod
ABG TM Modular Neck Stem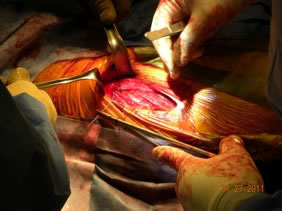 This was the first time I visited Newton-Wellesley and was surprised to see and old friend.
"Dr. Joseph D. Ferrone"
I had not seen Joe in years and our relationship goes back to the early S-Rom® days. I had the pleasure of doing a number of cases with Joe back in the 1980s and 90s.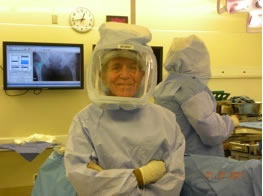 I believe Joe is about 74 years old and has given up his primary surgical practice however is still in the O.R. first assisting Dr. Snyder. Joe looks great and has a smile on his face. Good seeing you old friend!
Slightly different neck cut
Takes two neck cuts
The ARCTM / MSATM technique is to dislocate the head and then take a cut about 6-8 mm sub cap at about 50º angle.
The two neck resection technique appears to be slightly more difficult especially in a muscular male.
Post-op X-ray
As we have discussed many times slight varus stem positioning does not seem to make a clinical difference with neck stabilized stems.
TSI Study Group / Dan has agreed to join the JISRF TSI Study Group and we welcome him aboard. His experience with both head stabilized devices and now with neck stabilized implants will provide added knowledge to our group.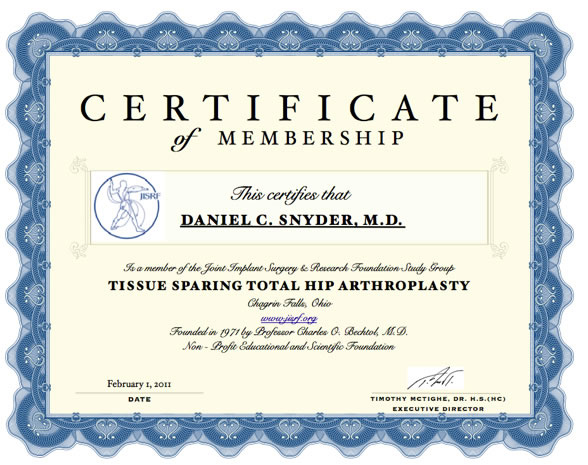 Robert "Ted" Kennon, MD
Robert "Ted" Kennon, MD - Stem Modularity Does Help
This 84 year old frail, 3 packs-per-day smoker previously sustained two hip fractures in minor falls due to her severe osteoporosis. Her left hip was pinned five years ago and healed uneventfully, but she subsequently developed post-traumatic arthritis that is now quite disabling.
| | |
| --- | --- |
| | |
A K2 mid-length stem was selected as an ideal choice in converting her to a total hip arthroplasty for three reasons. First, her prior fracture had compacted down as it healed, leaving her with a shortened offset and valgus neck that are better re-approximated with a modular prosthesis. Second, most modular primary systems do not provide extra length options, which was helpful in this particular case in bypassing the stress riser of her previous pin sites as well as strengthening the proximal one-third femur in this osteoporotic patient who has already demonstrated multiple fragility fractures and lessening her chance of a periprosthetic fracture in the future. Third, the simplicity of the K2 system allowed this case to be completed in about half an hour, whereas many modular systems (such as traditional S-ROM) require more preparation and operating time for milling out the proximal femur, etc. The Zweymueller geometry allowed a quick and rotationally solid fit in the osteoporotic bone. The patient was able to ambulate in the hallway that evening and confidently place full weight on the solidly seated stem.
Audley Mackel, M.D.
Dr. Mackel - Learning a New Hip Device is a Process
Dr. Mackel is Chief of orthopaedics at St. Vincent Charity Medical Center in Cleveland, Ohio.
Dr. Mackel a master total joint surgeon has followed the development of the ARCTM stem from its conception and has now progressed to performing his first Neck Stabilized Stem.
Dr. Mackel is a member of the JISRF TSITM International Study Group (Tissue Sparing Study Group) and has participated in a number of activities sponsored by JISRF over the past few years.
Moderator: Mini-Symposium on Neck Sparing THA-Lessons Learned - 2010
Master Surgeons Interview on Tissue Sparing THA - 2010
Moderator: Mini-Symposium on Cutting-Edge Developments on Proximal Modularity - 2008
| | | |
| --- | --- | --- |
| | | |
| Pre-op templating | His own templating process | Determining neck resection |
Photos from His First Case
| | |
| --- | --- |
| | |
| | Dr. Mackel has participated at cadaver training, observed live surgery and has studied and reviewed the design concept, surgical technique and attended educational seminars prior-to scheduling his first case. It is this dedication to this educational process that reduces his operative learning curve and provides his patients with the best possible clinical/surgical outcome. |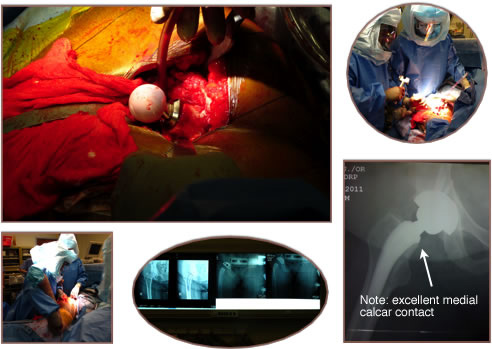 Dr. Mackel did his joint fellowship with Larry Dorr, M.D. and was part of the study that define bone classification into Dorr A, B, & C Bone.

JISRF is pleased that Dr. Mackel has agreed to help define the indications and contraindications on Neck Stabilized Stems for THA and as part of that process, what are the learning curves to preoperative planning (templating). Lateral templating appears to be key in determining stem size and A/P helps to determine level of neck resection (leg length) and femoral offset.
JISRF had a very busy year in 2010 from sponsoring a Mini-Symposium on Neck Sparing Total Hip Arthroplasty, to producing educational videos on surgical total hip techniques, to interviewing Master Surgeons on Total Hip Technologies. If you have not seen our newsletters they are posted on our activities page. We have restructured or web site for a quicker search pattern and have posted videos of some of our recent activities. Many of our Members have participated as faculty at CME meetings. For example John Keggi, M.D. and Louis Keppler, M.D. participated at the Boston Hip Course this past fall. This year the Foundation celebrates its 40 year anniversary. This is also the year we will publish our first addition of our online journal "The Reconstructive Review" .
As we approach the 2011 AAOS meeting in San Diego we look forward to seeing our many friends and colleagues. Also please note one of our Board Members Dr. Ed McPherson has a couple of interesting posters.


Timothy McTighe, Dr. H.S. (hc)
Executive Director
Joint Implant Surgery & Research Foundation
AAOS 2011 Poster Exhibit - "Cup Cage for Revision THA" Adult Reconstruction Hip
By Laura McPherson, BA, Edward J. McPherson, M.D. and Timothy McTighe, Dr. H.S. (hc)
Acknowledgement: For their collaboration on taking this experience along with their own into a new development direction. Russ Nevins, M.D., Timothy McTighe, Dr. H.S. (hc) and Declan Brazil, PhD.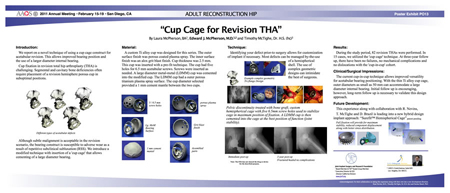 We report on a novel technique of using a cup cage construct for acetabular revision. This allows improved bearing position and the use of a larger diameter internal bearing.

Click here to download PDF
AAOS 2011 Poster Exhibit - "Diagnosis & Management of Hypersensativity in the Painful TKA"
By Laura McPherson, BA, Edward J. McPherson, M.D. and Timothy McTighe, Dr. H.S. (hc)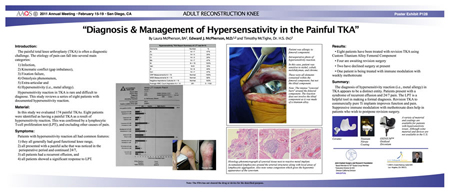 The painful total knee arthroplasty (TKA) is often a diagnostic challenge. The etiology of pain can fall into several main categories:
Infection
Kinematic conflict (gap imbalance)
Fixation failure
Osteolysis phenomenon
Extra-articular and
Hypersensitivity (i.e., metal allergy)

Click here to download PDF
You will need the Adobe Reader to view and print these documents.