JISRF Activities April 2010
April 30, 2010
Dr. Keppler's First Two ARCTM Tissue Sparing Implant Cases on April 20, 2010
Reported by:
Timothy McTighe, Dr. H.S. (hc)
Executive Director, JISRF
First case was a 47-year-old small female with mechanical impingement, torn labrum, and over 30% delamination of acetabular articular cartilage. There was also concern as to the sizing, that it might be too small for the size 1 ARC stem with a socket size of 46 mm.
Posterior approach.
Initial femoral neck resection high retained most of the neck.
Very tight on the reaming was going to push the limit on sizing for this patient.
Small Ben Hur was used to open for the ARC Awl.
Rat tail rasp was then used as both a canal finder and to slightly enlarge the opening. This worked fairly well.
Small femoral canal and neck
Awl goes in fairly easy
Starter rasp very tight fit.
Size 1 rasp could not seat deep enough and would have to use 28 mm head decision made to switch to Apex Modular Stem
Only took about 8-10 minutes to prepare for Apex Modular
Intra-operative x-ray helps check mechanical alignment and modular features allow for last minute fine tuning. Neck length adjusted. Stem fit like a custom implant. 2 prox x 10 mm.
The next case was also a small female with a slightly larger femoral neck and acetabulum
Slightly more neck was removed
Ben Hur
AWL no difficulty
Slightly more neck resection
Progression of routine use of rasps
Some fine tuning with a high speed burr was done since we were on cortical bone.
This is not necessary but was helpful in getting a more custom fit
Good fit of final stem.
Stability was very impressive
Trial neck off the final implant then 8 mm varus neck was chosen for final implantation.
Pt. doing well first day post-op. Saving all the lateral structures was very impressive.
Obvious as we new there would be outliers this first case confirms Australian experience that a smaller size may be needed and would more than likely be a monoblock neck design.
In both of these cases with tight fit cortical bone needs to be shaped to fit the medial curve and preparations for the differential size between the rasp and implant with the T-back. More experience is needed but possible additional preparation for the definitive stem in very tight situations may need to be addressed. Over all impression was good and basic instruments work well and the initial stability of the implant is impressive.
We did not have any problem with the angle of the neck cut as we paid special attention to that. You do need to be done to the bottom of zone A top of zone B (8 mm down from sub cap to ensure your neck length is not too high.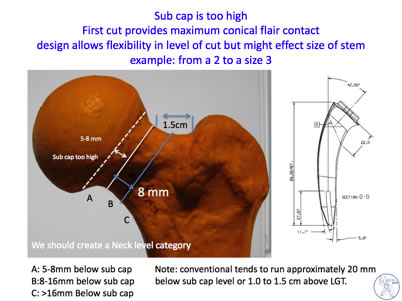 April 22, 2010
JISRF to Attend the International Osteoporisis Foundation (IOF) World Congress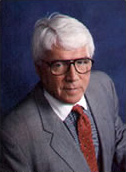 Kristaps J. Keggi, M.D.
On behalf of JISRF professor Kristaps Keggi of Yale University School of Medicine is atttending the IOF World Congress on Osteoporosis in Florence, Italy, May 5 -8, 2010. He is presenting the JISRF Study Group poster entitled "Neck Sparing Total Hip Arthroplasty - Lessons Learned".
Architectural changes occur in the proximal femur after THA and can lead to implant loosening and or breakage.
Previous surgeon designers (Freeman, Townley, Whiteside and Pipino) have advocated the concept of neck sparing stems. However, to-date most neck sparing stems have had disappointing results with regard to maintaining proximal bone mineral density.
April 1, 2010

by Timothy McTighe, Dr. H.S. (hc)
After 40 years of being in the orthopaedic health care field I find certain actions can still surprise me. I have lectured and published on commercial funding for CME and ethics in the orthopaedic health care field for almost twenty years. I am a strong advocate for the need and benefit of orthopaedic surgeons to be involved in the design, development and continuing educational process on the use and indication for medical devices. However, there are certain activities that I believe put our entire health care process at risk. 
There is a long history of surgeon development in orthopaedics. With that said, one needs to recognize that times do change and perceptions also change. There have been very successful surgeon owners of medical device companies that have benefited the overall health care market. Charnley, Mueller, Townley, Steffee and  Whiteside are just a few that have done a good job in creating product and being instrumental in bringing their product to the market. The one significant difference with these surgeons vs. the model presented is they were designers, developers of product and surgical techniques. Often the only way they could get their ideas into the market was to create a manufacturing company. These were men that were and are strong advocates of their designs and were motivated by the idea of offering a better product that would result in better outcomes.
I make no judgement as to the motivation of surgeon distribution my only comment has to do with the perception. First as to surgeon ownership, I have no problem with anyone owning any part of a legitimate business and believe we all need to protect everyone's right to ownership. However, as with the design and payment of royalty fee to surgeon designers, they are exempt from receiving payment on any product that is used at their hospital of practice. Often many patients do not realize that their surgeon is exempt from receiving payment on product they use and this can and does increase legal entanglement if their is a medical/legal problem with that individual case.
We discuss this in our professional disclose recommendations on our web site.
I would certainly advise any surgeon interested in this type of ownership that they recuse themselves from any direct or indirect finical benefit at their own hospital or out patient surgery center.
We have seen overreaching actions by the Justice Department and by State's enacting very punitive legislation towards the healthcare field and health care professionals.
These over reaching actions were the result of perception not necessarily do to merit.
Surgeon owned distribution is one of those activities that I believe has the potential of greater risk than reward.
The financial benefit towards society by this type of activity will more than likely, in my opinion, be overlooked by the perception of direct surgeon finical benefit. Of course full disclosure is now both public and professional policy but full disclosure often is not enough.
We are seeing challenges at every level of the free market system and some challenges are worth fighting for and some create trends that can lead to further restrictions of our rights.
I acknowledge that the surgeons involved with this activity appear to be trying to create a better model of providing product and services to the market place but do confess to be concern that the timing and perception may bring about a different reaction.
I would raise a comparison of direct advertising by the health care field to patients. I personally have always been in favor of this type of activity if done well, however, there is no question that direct advertising is controversial and has increased time (money) for the medical professional to spend with their patients. This is getting to the point that both professional societies and State Legislators are now reviewing guidelines and public policy.
As always be aware and make decisions with this type of activity with professional advise by your attorney, accounts and professional societies.
I for one think if our goal is to reduce health care cost putting effort into passing Loser Pay legal reform and reducing the restrictions for Certificate Of Need for more hospitals will do more to reduce rising healthcare cost than recent health care legislation or certain activities such as surgeon distribution.


Timothy McTighe, Dr. H.S. (hc)
You will need the Adobe Reader to view and print these documents.